CUSTOM CuTS®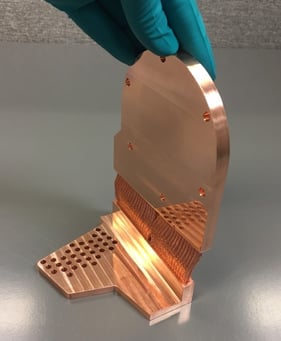 In addition to our popular CuTS® Standard Product Line, Technology Applications, Inc. designs and manufactures thousands of custom OFHC copper thermal straps for space, airborne and ground-based/terrestrial use in aerospace, commercial, laboratory and defense applications. Custom CuTS® typically have the same unit cost as their standard counterparts, but with the addition of a small NRE/design fee.
In many cases, a simple, standardized rectangular end fitting will not work for certain applications, especially those with very restricted interface geometry and/or "end fitting envelopes," as in electronics boxes and cold head / cryocooler applications, for example.
In addition to unique & exacting end fitting/terminal block design and machining requirements in many custom programs, CuTS® customers often have a need for a comprehensive range of custom "add-ons," or options, including: helicoil inserts, different copper/cabling rope diameters and types, serialization, etc.
To see dozens of examples of the thousands of straps TAI has designed and fabricated for our customers, visit our Copper Thermal Strap Gallery now!