503 / 505 Model CuTS™
The "L-Series"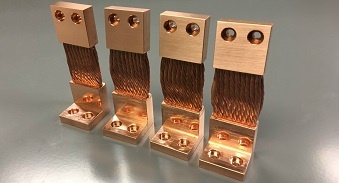 The 503 and 505 model thermal straps were developed for customers needing straps to connect two perpendicular (or parallel) interfaces, while requiring high thermal conductance. With a single L-shaped end fitting (dual for the 505™), we are able to reduce the length of our 501 and 502 straight straps (which had to be installed in "s" or "u-shapes," under certain circumstances), thus increasing thermal performance and minimizing the strap's impact to your geometric envelope.

As with all standard strap models, all 503 & 505 series straps come in P5, P6, and P7 models (in 0.5, 1.0 and 2.0 inch widths), are length-customizable at no charge (with optional bolt pattern), and most orders are shipped in just 5 weeks.
Please note that P5-503 and P6-503 straps can become somewhat stiff at a braid length (BL) of < 2 in., so certain applications requiring a great deal of flexibility/compliance may require a 504 (or "U-Series" strap), a longer outer row, or even a custom solution. We also would recommend that customers use our OFHC UltraFlex material.
The learn more about the 503 and 505 product line (specs, dimensions and other information), download a copy of our new 2017 CuTS™ Catalog (using the form to your left).