Polyethylene Flexible Cryostat

*This is not a product offered by TAI, merely a previous development program. TAI does not manufacture PFC's nor do we have the capability at this time.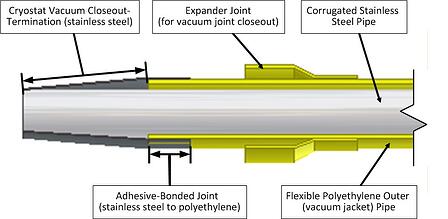 Cryostat Diameter
Inner: 75 to 165 mm
Outer: 125 to 200 mm
Cryostat Length
100 meters - 500 meters
Allowable Heat Leak
< 1 W/m
Design Pressure
Inner Pipe: 20 bars
Outer Pipe: 5 bars
Minimum Bend Radius (HTS size dependent)
1.5 Meters - 3.0 Meters
Maximum Pulling Force
800 kg
Maximum Load Bearing Pressure
200 kg/m
Spacers Between HTS and Inner Line
None
Power Type
AC or DC
Instrumentation & Interfaces
Active Vacuum Monitoring + Burst Disc & Pumpout Port
Safety Relief
Yes
Life Expectancy
30 years
Number of Thermal Cycles
< 10
Cryostat Assembly Cost
< $200/meter
Environment
Underwater & Underground in Duct Bank
Current Cryostat Technology
High temperature superconductors (HTS) were discovered during the 1980s in layered, Pervoskite ceramic materials. Advances in material processing since then have demonstrated current capabilities in excess of copper by a factor of roughly 100 at liquid nitrogen temperature (LN2). In analogous fashion as low temperature superconducting (LTS) materials, HTS cables have been developed to supply high currents for the electrical motors and electrical transmission. These efforts have been driven by greatly increased system efficiency for DC current transmission with significant energy savings. The optimization of HTS materials in cables for the DC current transmission is now relatively mature and a number of projects have demonstrated high power transmission in HTS cabling over lengths up to 500 m. The cryogenic cooling for these demonstrations have been developed using standard cryogenic materials and practices well suited for the laboratory, but often difficult and costly to scale up for an industrial application.

A typical HTS cable assembly in operation today is displayed in Figure 1. The cable includes an inner LN2 supply and HTS conductor assembly optimized for either AC or DC currents. The flexible outer cryostat shown in the figure consists of two concentric stainless steel corrugated cylinders. The inner cylinder contains the LN2 two-phase return flow; the outer cylinder contains a vacuum with an aluminized multilayer insulation (MLI) system.
Figure 1. Southwire cryostat system and HTS power cable schematics.
There are four reliability issues associated with existing cryostats using corrugated stainless steel cylinders. These issues are summarized below:
Loss of vacuum integrity during or just after manufacture. Micro cracks can develop in the corrugated metallic tubes due to excessive gaseous hydrogen gas content resulting in hydrogen embrittlement and the loss of vacuum.
Damage to cryostat during installation. Cryogenic hardware (e.g., pump-out ports and burst disks) can be damaged during the pulling of the cable in the cryostat that generates small leaks. This damage can be minimized with handling care and by recessing hardware in the cryostat ducts.
Degradation in service. Getters are needed for passive pumping to reliably address out-gassing. Voltage gradients between inner and outer tubes from lightning strikes must be mitigated. Overall reliability must be improved to be consistent with the utility perspective of "bury and forget" the cable/cryostat for 10-20 years.
Cost. The initial cryostat cost combined with the vacuum pumping and maintenance cost of the cryostat system is the same as the electrical cable cost. The life-cycle cost of the cryostat system from its initial procurement to recurring maintenance must be significantly reduced to become a cost competitive product for the utility industry. Currently, cryostat costs are estimated to be $800 - $1,200 per meter. Design requirements must address the cost of cryostat materials, insulation, and vacuum operation.
Polyethylene Flexible Cryostat Technology Develpoment
Under this previous development program, Technology Applications, Inc. (TAI) developed a new material use that has the potential to reduce the initial procurement and recurring maintenance costs and to improve on cryostat reliability issues. TAI used the already developed HTS power cable in a cryostat system developed for industrial application using known cryogenic standards, but with the new high or medium density polyethylene (H(M)DPE) materials. We used polyethylene (PE) for the outer flexible cryostat vacuum jacket rather than corrugated stainless steel for the net system benefits detailed below. The inner pipe will utilize corrugated stainless steel as currently used in HTS cryostats. The resulting hybrid design provides a reduced risk approach for incorporating low-cost PE into a HTS cable cryostat system; the design is shown in Figure 2. This hybrid cryostat approach is viable because key problems associated with vacuum integrity, degradation in service due to lightning strikes and corrosion, and life cycle cost are provided with only using PE in the outer pipe (vacuum jacket).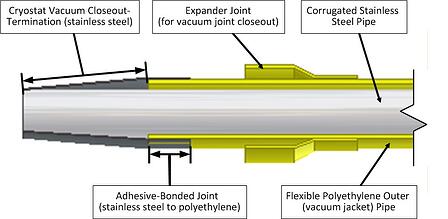 Figure 2. Hybrid-material cryostat for HTS cables.

Figure 3 illustrates the design for a completed cryostat section joint that is installed in the field. This joint has an independent vacuum space with multilayer insulation as is typically used in field joints for vacuum-jacketed pipe.





Figure 3.Hybrid HTS cable cryostat joint concept.

The advanced hybrid cryostat used PE materials that are widely used commercially for underground storage tanks and piping. Given the emphasis of metal replacement by polyethylene in industrial piping as denoted by the PE100 specification implying 100-year lifetime, special polyethylenes are now available that have been toughened to survive normal environmental weathering for 100 years or more.

The use of plastics for cryogen containment is in an early stage even though plastic materials have been used in cryogenics since the 1950s. The limiting factors for more widespread use have been the development of appropriate plastics with the inherent structural capabilities of metals, manufacturability, and cost. These properties have been dramatically improved recently and have caused us to take another look at the possibility of substituting plastics for metals in cryogenic applications.
Polyethylene Flexible Cryostat for HTS & LNG Transfer Lines
HTS - The HDPE cryostat holds the promise of a long lived maintenance free cryostat system to lower the cost of transportation and storage of cryogens for use in energy production and delivery. This capability reduces energy cost to the world's people. Ultimately, energy cost determines the standard of living. The use of the HDPE cryostat for LNG enables a lower pollution fuel to be available at a lower cost. Its use on the HTS applications also lowers the cost of electricity, which can be generated from numerous sources many of generate power with low carbon and pollution emissions.This hybrid cryostat approach is viable because key problems associated with vacuum integrity, degradation in service due to lighting strikes and corrosion, and life cycle cost are provided with only using PE in the outer pipe (vacuum jacket).

LNG - In addition, the Liquefied natural gas (LNG) market will be able to use this technology. LNG is the fastest growing hydrocarbon fuel; while gas as a primary fuel source is forecast to grow at 3% yearly in the coming two decades, LNG as a subset is forecast to grow at double that rate over the same period. The growing demand for LNG is primarily limited by construction of onshore receiving terminals. The largest cost associated with terminal construction is building a harbor suitable for LNG tanker unloading.

For the loading and offloading of LNG to the tankers, terminals are required. The terminal at the loading side is normally close to the liquefaction plant. Traditionally on the offloading end, the terminal is situated near a temporary storage facility and re-gasification plant. On locations with sufficient deepwater close to the coast or in ports, terminals may consist of jetty structures, where tankers can be moored and offloaded with standard mid-ship side-loading arms. The LNG/gas handling and storage can be done onshore; Figure 4 from Bluewater Energy Services show examples of a single-point mooring system and the network of LNG transfer lines running to the shore. Long-life and flexible, vacuum-insulated transfer lines are needed for the success of this LNG transfer operation.


Figure 2. Hybrid-material cryostat for HTS cables.


Vacuum insulated piping (VIP) has been widely used for over 40 years in cryogenic systems. The use of VIP has evolved into a long-term economic means of transferring liquid cryogens in all related industries. The performance and economic advantages of vacuum insulation have been realized in many industries and applications for decades yet the LNG industry has been very slow to embrace this new technology. When considering all aspects of the plant design and cost of using VIP versus mechanically insulated piping, the initial investment can be lower with VIP.

With all the LNG liquefaction plants being built and planned, only a very few are using VIP of large diameter, long length VIP with direct seaport access. However, the trend seems to be changing.