Thermal Management Components and

Systems
TAI designs and fabricates custom cooling systems for cooling of critical system components for space, flight, and ground based applications. Below are examples of the systems that we have developed for past projects (though we no longer make these products):
Thermoelectric Cooler Interface
Thermoelectric Cooler Interface
Assembled interface system and incorporated packaging of radar resonator.

Thermally isolating fiberglass supports (cylindrical vacuum housing not shown).

Uses two thermoelectric coolers (TEC) to cool to 250° K.

Demonstrated temperature stability of less than 0.001° K.
Initially developed for infrared-sensing satellite
All major components located in spacecraft bus

Compressor only active component

Flexible transfer lines route cooling fluid across busgimbaled optics

Requires no active control with variable load

Nearly constant temperature cooling

Accommodates thermal load leveling

Modular design for easy system integration

Potential cooling applications:

SBIRS-Low gimbal optics

ABL course pointing sensor

HTS resonator/waveform generator

Vibration sensitive systems
Cross-Gimbal Optical Bench Cooling Interface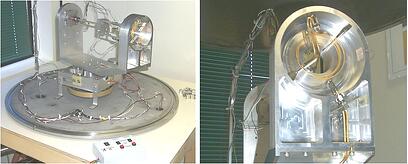 Cross-Gimbal Optical Bench Cooling Interface
Flexible cooling loop demonstrated 110° K on-gimbal cooling for 15 W heat load.

Completed more than 73,000 full range gimbal cycles at operational temperature (equivalent 14-year on-orbit lifetime).

Azimuth axis: –180° to +180° and return.
Elevation axis: 0° to 90° and return.

Additional testing conducted to demonstrate cooling over an operational temperature range from 75 K to 125 K using: