Thermal Strap Solutions - TAI
Aerospace | Laboratory |

Commercial
Technology Applications, Inc. (TAI), headquartered in Boulder, Colorado, is committed to being your thermal strap design & fabrication leader. Though we are the world's top provider of thermal straps (often referred to as "flexible thermal links" or "heat straps"), our engineers and highly-skilled technicians also provide custom cooling system and thermal management design, fabrication and consultation services.
TAI provides the world's only Flexible Graphite Fiber Thermal Strap (GFTS™). The average GFTS™ assembly provides 2x - 4x higher thermal performance, yet is a mere 1/5 - 1/10 the mass of an equivalent copper or aluminum strap/assembly. GFTS™ assemblies also provide unmatched vibration attenuation/damping, and are ideal for thermally conductive vibration isolation.
GFTS™ Space/Flight Heritage

Our GFTS™ technology has been space qualified by NASA, ESA, JAXA and several US Aerospace primes, and our straps have flown on the Orion & ASTRO-H programs, in addition to several others. We are also proud to report our GFTS™ assemblies are currently being used in NASA's SPICE program, GRACE-FO, GPS, EnMAP, and numerous US and European commercial and research satellites set to launch in 2017.
To see examples of previous (prototype and flight model) graphite thermal straps used in space programs, visit our Graphite Thermal Strap Gallery page.
TAI provides custom and standard configuration OFHC Copper braid Thermal Straps (CuTS™). CuTS™ are ideal for nearly any ground-based, airborne and space application, and are a far more affordable and superior-performing alternative to aluminum foil straps, under nearly any environmental & operating conditions. CuTS™ clients include: NASA, ESA, aerospace primes, and countless Universities and National Labs across the US and Europe. While they are most often used in prototyping and ground-based commercial or laboratory applications, our CuTS™ are also used in a number of US space programs including GOES-R, DSAC, OSIRIS-REx and others.

TAI

will also be releasing our OFHC cu foil thermal strap product line in

the summer of

2016.
To see samples of standard and custom copper thermal straps from dozens of space flight, airborne and terrestrial programs, visit our Copper Thermal Strap Gallery page.
Who (Actually) Makes Your Thermal Straps Matters...
It's important you know who actually makes your thermal strap hardware. At TAI, all of our copper, graphite, and carbon fiber composite thermal straps are assembled right here in our facility, by highly trained experts with years of assembly experience.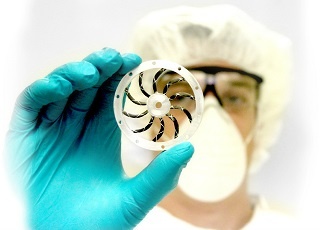 Unlike some of our competitors, we do not outsource your thermal straps to machine shops or poor quality, electrical component manufacturers in the US or China. When your program is on the line, it's important to ensure your thermal strap supplier is a legitimate company with a team of engineering and fabrication experts. It's also important to know that their thermal straps have flight heritage with the world's top aerospace organizations. Your program is too important to trust to one and two person organizations, misrepresenting their size and production capabilities.
If TAI cannot manufacture a strap solution for your application (due to material or performance requirements), we are happy to refer to you a reputable strap supplier--one with flight heritage--to ensure your program avoids unnecessary risk by using "outsourced" or "counterfeit" strap suppliers.
Experts You Can Count On
With TAI, you have the comfort of knowing you can get a hold of experienced personnel at any time of day, and get expert advice from a dedicated team of (actual) employees. From a Design Engineer, to a Thermal Engineer, Program Manager, Production Manager, Quality Engineer, and numerous Fabrication & Test Technicians, TAI has team of experts ready to help.
Our Director of Business Development is available via phone and email from 6 AM - 10 PM MST (13:00 - 05:00 GMT), 7 days/week, to help you understand our products and get your inquiry started. Once we've established your requirements, our engineering team provides all customers with complimentary design and assessment services to ensure you get the best thermal strap solution, given your requirements and budget. Whether you need a custom or standard model solution, you can count on TAI.