Graphite & Graphene Sheet Thermal Links
Pyrolytic Graphite Links (PGL) & Multilayered Graphene Composite Links (GCL)
Technology Applications, Inc provides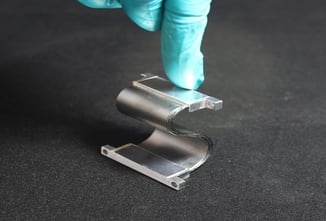 Pyrolytic Graphite Links (PGL), and will be releasing our Graphene Composite Sheet Thermal Link (GCL) products in April of 2017.
While they offer high thermal performance, all forms of pyrolytic graphite/graphene sheet straps are far more fragile than metallic or graphite fiber straps, and not ideal for certain applications requiring large scale range of motion, flexibility on all axes, or operating temperatures <60K. As a result---just as is the case in any other thermal strap program--it is critical that customers provide a comprehensive list of their requirements and description of the operational environment, in order to ensure PGL or GCL is a workable solution.
Pictured: PGSTS built by TAI (2015).
Ultra-High Conductance Straps: 1,500 - 2,000 W/(m-K)
What sets these straps apart from our GFTS™ products, and other thermal straps in the industry? Simply put: they offer the highest thermal performance available in the market.
In place of our space-qualified GraFlex fiber material, we utilize pyrolytic graphite sheets, or multilayered, high conductance graphene composite (97% graphene); a material made by layering graphene into thick composite sheets. These materials provide a material thermal conductance of 1,500 - 2,000 W/(m-K); though graphene composite may one day offer even higher thermal performance than the current 1,500 W/(m-K) available in the industry (as the technology improves). While both multilayered GCL and PGL offer extremely high thermal performance, our unique, proprietary PGS material provides nearly 2,000 W/(m-K), and offers superior thermal performance to any graphite fiber or graphene strap.
It should be noted that we do not provide single layer graphene straps, as there are no (actual) single layer graphene sheet thermal straps available in the world (just a multilayered composite). While single layer graphene sheet can achieve conductance in excess of 3,000 W/(m-K)---and could theoretically achieve well over 5,000 W/(m-K))---there is a catch: single layer sheets are only 0.35 nm thick. Thus, making them entirely impractical (if not impossible), to use in a thermal strap application (as this would require stacking millions of sheets to make your typical strap).
While these straps do not have years of space qualification and flight heritage (like our copper and graphite fiber thermal straps), they are a unique strap product, offering a particular set of benefits which may make them ideal in volume-restricted applications, such as electronics boxes.
Important Limitations To Consider
First and foremost: don't confuse "single layer graphene," with "multilayered graphene composite," or be deceived by claims regarding the durability of pyrolytic graphite and multilayered graphene composite sheets/films/foils. While (theoretically), graphene sheets should be extremely strong ("as strong as diamond," as material manufacturers often claim), the reality is that pyrolytic graphite and graphene composite sheets/films/foils are delicate, fragile, and susceptible to tearing.
As a result, mishandling during shipping/receiving, testing, and installation (let alone the typical vibration and shock profiles straps are subject to during qualification and launch), can catastrophically damage non-woven, carbon-based sheet straps--rendering them unusable.
This is not to dissuade you from using PGL/GCL (in certain situations); as TAI began designing and manufacturing PGL products in 2015 (and will be releasing our GCL products in April 2017).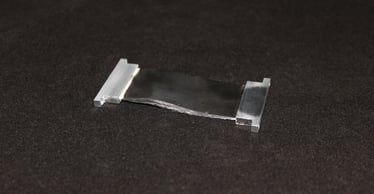 PGL & GCL vs. GFTS™
Like all strap options, PGL and GCL assemblies have their benefits and drawbacks. If your application requires:
• Operation at cryogenic temperatures
• Load-bearing capabilities
• Large scale range of motion
• Repeated life cycle flexing/bending
• Deflection on all axes, or
• If there are durability concerns (and a chance that installation or your operational environment may damage straps)...
...Then a copper rope/cabling strap is your best option. If these issues do not factor in to your application, then mass-sensitive customers may realize significant benefits from a graphite or graphene (non-woven) film/sheet/foil strap.
The chart below provides a simplified comparison of the various graphite and graphene strap configuration options available to customers. Please note: while graphene and pyrolytic graphite sheets/films/foils may have up to 2x the material thermal conductance of graphite fiber configurations, actual measured/realized thermal performance with these materials (due to resistance losses, the assembly process, and material properties), results in an improvement of just 20-40% higher thermal performance than GFTS™ products.
GraFlex I and II
GraFlex III Sheet
Graphene Sheet
Pyrolytic Graphite Sheet
Material Thermal Conductance >200K)
800 - 1000 W/(m-K)

800 - 1000 W/(m-K)

1,500 W/(m-K)

1,500 - 2,000 W/(m-K) (Strap Supplier Dependent)
Durability
Moderately Durable
Highly Durable
Extremely Fragile

Extremely Fragile

Flexibility
Moderaltely Flexible. Configuration Dependent.
Highly Flexible
HIghly Flexible on X & Z axes.

NOT on Lateral (Y) axis

HIghly Flexible on X & Z axes

NOT on compression/X axis

Range of Motion
Moderate (Configuration Dependent). Can Be

Limited

on Compression (X) Axis in Certain Designs
Largest Range of Motion (on all Axes)
Large Range of Motion on Compression and Vertical (X and Z) Axes.

Movement on Lateral (Y) Axis Will Tear Sheets.

Large Range of Motion on Compression and Vertical (X and Z) Axes.

Movement on Lateral (Y) Axis Will Tear Sheets.

Space Flight Heritage
YES
COMING 2018

NO

NO

Cost
Similar to Metallic Foil Straps. Less Than Any Competing Carbon Strap

Similar to Metallic Foil Straps. Less Than Any Competing Carbon Strap

More Expensive Than GFTS™ or Any Metallic Straps

More Expensive Than GFTS

™, or Any Metallic Straps, Cheaper Than Graphene Straps