Graphite & Graphene Sheet Thermal Links/Straps
Pyrolytic Graphite Links (PGL™) & Graphene Thermal Links (GTL™)
For applications with restricted volumes, minimal range of motion requirements, and a high thermal conductance to low mass ratio requirement, TAI provides Pyrolytic Graphite Links (PGL™), and Graphene Thermal Links (GTL™).
While they offer superior thermal performance to GFTS® products (and can outperform copper straps under certain circumstances, and depending on the length and operating temperature), all forms of pyrolytic graphite and graphene sheet straps are far more fragile than metallic or graphite fiber straps. They are also not ideal at operating temperatures less than 150K. As a result—just as is the case in any other thermal strap program—it is critical that customers provide a comprehensive list of their requirements and description of the operational environment, in order to ensure PGL™ or GTL™ is a workable solution.
Pictured (right): PGL™ built by TAI (November 2014).
Ultra-High Conductance Straps: 1,600 - 1,950 W/(m-K)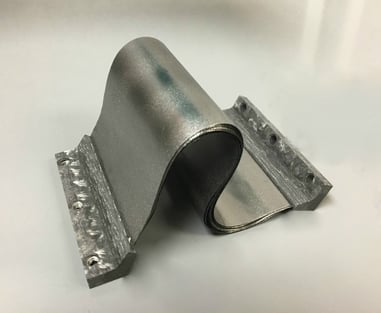 What sets these straps apart from our GFTS® products, and other thermal straps in the industry? Simply put: they offer the highest thermal performance available in the market.
In place of our space-qualified GraFlex fiber bundles (GraFlex I & II), or our GraFlex III woven fiber sheet material, we use stacked pyrolytic graphite sheets, or high conductance graphene foil sheets (depending on customer preference and the application).
These materials provide a material thermal conductance of 1,500 - 1,950 W/(m-K)—depending on sheet thickness—though graphene sheets may one day offer even higher thermal performance than the current "~1,500 - 1,700 W/(m-K)" available in the industry (as the technology improves).
It should be noted that we do not provide monolayer graphene straps, as there are no (actual) monolayer graphene sheet thermal straps available in the world (just sheets of multilayered composite and foils). While monolayer graphene sheet can achieve conductance in excess of 3,000 W/(m-K), a single sheet is only 0.35 nm thick.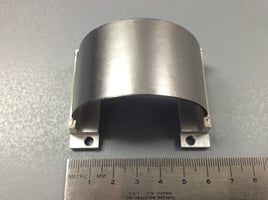 Though these straps do not have years of space qualification and flight heritage (like our copper and graphite fiber thermal straps), they are a unique strap product, offering a particular set of benefits which make them ideal in volume-restricted applications like electronics boxes, and PCB boards.
Pictured (top): Graphene Thermal Link (GTL™) made with carbon composite end fittings (April 2017). Pictured (right): First generation PGL™ with inverted aluminum fittings (August 2013).

Pyrolytic Graphite (PGS) vs. Graphene Sheets
While TAI does offer graphene strap products, we more frequently use PGS, due to a number of reasons regarding the quality, commercial availability, and mechanical & performance limitations associated with graphene sheet (often referred to as "films," "composite sheets," "foils," and "cross linked graphene sheets," etc.).
There are relatively few, high conductance graphene sheet suppliers in the world, but our GTL™ products utilize the highest conductance material commercially available; a graphene foil, offering 1,700 W/(m-K).
TAI can use multiple PGS materials in our PGL™ products, but the most common is our laboratory-verified 1,600 W/(m-K), 25μm thick sheet. TAI also offers PGL™ products with graphite sheets having a laboratory-verified material thermal conductivity of 1,850 and 1,950 W/(m-K).
Pictured (Above): Preparing a PGL™ thermal conductance test (August 2013).
Important Limitations To Consider
| | |
| --- | --- |
| Pictured: All forms of pyrolytic graphite and graphene sheet present FOD and contamination risks from both flaking/particulation, and torn pieces of material (and must be encapsulated). Sheets leave a black carbon residue on gloves, and any components or instruments they come in contact with. | Pictured: First generation PGL/PGS thermal strap with tearing/mechanical failure due to installation and removal from test fixture. Light mishandling, expansion/contraction, and launch & vibration can have devastating effects on graphene and PGS thermal straps. |
First and foremost: don't confuse "single/monolayer graphene," with "graphene films/sheets/foils," or be deceived by claims regarding the durability of pyrolytic graphite and graphene sheets. Straps can be torn if mishandled during installation, flexed on the lateral axis, or if they are subjected to repeated flexing or movement on ANY axis (as this can cause localized creasing, damage, and eventual tearing of sheets).
It is also important to understand that despite any claim to the contrary, all pyrolytic graphite and graphene sheets/films/foils particulate, pose contamination risks, and generate FOD. As a result, all carbon-based straps must be encapsulated (typically with an aluminized mylar sleeve or "blanket"). This does not mean that PGL™ and GTL™ products are not suitable for any application; only that they are ideal under certain circumstances, and environmental & operational conditions.
At TAI, we believe it is important that our customers are presented with the facts, their options, and a complete understanding of all of the costs and benefits of any strap material/configuration, before we sell any product. Setting your program up for success is—and will always be—more important than "making the sale."
PGL

™

& GTL

™

vs. GFTS®
Like all strap options, PGL™ and GTL™ assemblies have their benefits and limitations. If your application requires:
• Operation at <150K
• Load-bearing capabilities
• Large scale range of motion
• Repeated life cycle flexing/bending
• Deflection on all axes, or
• If there are durability concerns (and a chance that installation or your operational environment may damage straps)...
...Then a copper rope/cabling strap is your best option. If these issues do not factor in to your application, then mass-sensitive customers may realize significant benefits from a graphite or graphene (non-woven) film/sheet/foil strap.
The chart below provides a simplified comparison of the various graphite and graphene strap configuration options available to customers. Please note: while graphene and pyrolytic graphite sheets/films/foils may have up to 2x the material thermal conductance of graphite fiber configurations, actual measured/realized thermal performance with these materials (due to resistance losses, the assembly process, and material properties), results in an improvement of just 20-40% higher thermal performance than GFTS® products (putting them on par—from a thermal performance perspective—with stacked copper foil straps).
GraFlex I and II
GraFlex III Sheet
Graphene Sheet
Pyrolytic Graphite Sheet
Material Thermal Conductance >200K)
800 - 1000 W/(m-K)

800 - 1000 W/(m-K)

400 - 1,700 W/(m-K)

1,300 - 1,950 W/(m-K) (Material Dependent)
Durability

Highly

Durable
Highly Durable

Extremely Fragile - Repeated bending/flexing causes localized weakening, creasing, and eventual tearing of sheets

Extremely Fragile - Repeated bending/flexing causes localized weakening, creasing, and eventual tearing of sheets

Flexibility
Moderately Flexible. Configuration Dependent.
Highly Flexible
Highly Flexible on X & Z axes.

NOT on Lateral (Y) axis

Highly Flexible on X & Z axes

NOT on lateral/Y axis

Range of Motion
Moderate (Configuration Dependent). Can Be

Limited

on Compression (X) Axis in Certain Designs
Largest Range of Motion (on all Axes)
Large Range of Motion on Compression and Vertical (X and Z) Axes.

Movement on Lateral (Y) Axis Will Tear Sheets.

Large Range of Motion on Compression and Vertical (X and Z) Axes.

Movement on Lateral (Y) Axis Will Tear Sheets.

Space Flight Heritage
YES
COMING 2020

NO

NO

Cost
Similar to Metallic Foil Straps. Less Than Any Competing Carbon Strap

Similar to Metallic Foil Straps. Less Than Any Competing Carbon Strap

More Expensive Than GFTS™ or Any Metallic Straps

More Expensive Than GFTS

™ or Any Metallic Straps