PGS & GRAPHENE THERMAL LINKS
PGL™ & GTL™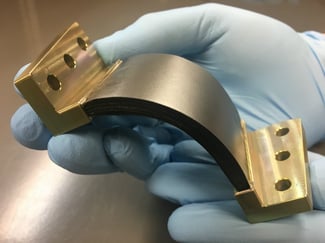 For applications with restricted volumes, minimal range of motion requirements, and/or a high thermal conductance to low mass ratio requirement, TAI provides Pyrolytic Graphite Links (PGL™), and Graphene Thermal Links (GTL™).
While they offer superior thermal performance to GFTS® products, all forms of pyrolytic graphite and graphene foil (sheet) straps are more fragile than metallic or graphite fiber straps. They are also not ideal at operating temperatures < 80K (though TAI's PGS material offers nearly the same material thermal conductivity as OFHC cu at 60K). As a result—just as is the case in any other thermal strap program—it is critical that customers provide a comprehensive list of their requirements and description of the operational environment, in order to ensure a PGL™ or GTL™ is a workable solution.
Pictured (right): PGL™ without mylar encapsulant sleeve, pre-vibration test (May 2018).
Superior Thermal Performance
TAI's PGL™ and GTL™ products offer the highest thermal performance available in the industry; providing a material thermal conductivity of 1,600
-
2,500 W/(m-K), depending on material, operating temperature, and sheet thickness (though graphene sheets may one day offer even higher thermal performance than the current 1,840 W/(m-K) available in the industry, as the technology improves).
However, the materials used are just one aspect that makes our products unique. These materials, when combined with our proprietary
design and assembly methods (which minimize resistance losses), result in unrivaled thermal performance.
Though these straps do not have years of space qualification and flight heritage (like our copper and graphite fiber thermal straps), they are a unique product, offering a particular set of benefits which make them ideal in volume-restricted applications like Xilinx™ electronics boxes, FPGA/chip & PCB cooling applications, and cubesats.
*It should be noted that we do not provide "monolayer graphene straps," as there are no (actual) monolayer graphene sheet thermal straps available in the industry. While a single layer of graphene can achieve conductance in excess of 3,500 W/(m-K), it is only 0.35 nm thick.
Pictured: GTL™, 1.0" x 3.0", Conductance = 0.86 W/K (March 2018). While offering higher performance than most PGS materials, Graphene Foils are less flexible, and do not have spaceflight heritage (yet).

Pictured: GTL™ being prepared for thermal conductance test (March 2018).

Pictured: PGL™, 1.0" x 3.0", Conductance = 0.70 W/K (March 2018). These units can be easily flexed on the vertical and compression axes after installation. Though more flexible, PGS is still delicate and proper handling is required.

Pictured: PGL™ being prepared for thermal conductance test (March 2018).

Important Note on Material Thermal Conductivity: the values in the graph represent the conductivity of the various ("flexible portion") materials used in thermal straps, at different temperatures. They are not necessarily indicative of the measured performance of a thermal strap assembly (i.e., a GFTS®, GTL™, or PGL™ strap assembly will not guarantee 2X - 4X the performance of an equivalent-sized copper cable or foil configuration). This is because metallic straps are more densely packaged, and there are resistance losses associated with the assembly processes (epoxying and clamping), and via stacking sheets or adding additional ropes and/or rows. For performance projections of any of our strap products, please contact us at any time. Our front end design and assessment services are complimentary, and can save you the trouble of attempting your own conductance calculations.
Pyrolytic Graphite Sheet (PGS) vs. TAI's Graphene Foil
Though our team has manufactured PGL™ products using multiple PGS materials & sheet thicknesses, the most common is our laboratory-verified, 1,600 W/(m-K) sheet. At 1,840 W/(m-K), our Graphene Foil offers the industry's highest strap material thermal conductivity—but there are trade-offs to consider...
Determining which material is best-suited to your application is dependent upon your thermal and mechanical requirements. While Graphene Foil offers slightly higher performance than PGS (on the assembly level), a strap made with PGS is more flexible, and less prone to stress fractures and kinks when sheets are flexed. Further, the thermal conductivity of TAI's PGL™ products peaks near 150K, making them better-suited for lower temperature applications (60 - 200K), than Graphene Foils/Sheets (which peak at 220K).
Pictured (Top): PGL™ manufactured by TAI (November 2014).
Which Carbon-Based Thermal Strap is Right for Me?
GFTS® (GraFlex I & II)

Strap Conductance: 0.22 W/K

GFTS® (GraFlex III)

Strap Conductance: 0.20 W/K

Graphene Foil (GTL™)

Strap Conductance: 0.86 W/K

Pyrolytic Graphite (PGL™)

Strap Conductance: 0.70 W/K
TAI offers multiple carbon-based strap products because no single configuration or material is ideal under all operational and environmental conditions.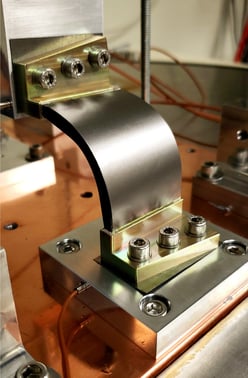 Though they have a lower thermal performance, our Graphite Fiber-based straps are more durable and lighter than carbon sheet straps, and they can be flexed on the lateral axis/provide lateral deflection (which is helpful for applications such as battery pack cooling, antenna arrays, optical instruments, and some deployable/moving/rotating instruments and equipment). Though spaceflight customers most commonly choose GraFlex I and II, GraFlex III is also ideal for applications with extremely limited volumes, but requiring flexibility on each axis. GraFlex rope and woven sheet material is also less expensive than PGS and Graphene Foils, as are GFTS™ assembly costs.
Carbon foil/sheet straps offer superior thermal performance, but at the cost of durability and lateral flexibility/deflection. These straps are better-suited to applications with compact envelopes, requiring little to no flexibility/range of motion (such as electronics boxes, chip cooling, etc.). It is important to note that PGL™ products offer superior thermal performance at lower operating temperatures than Graphite Fiber and Graphene Foil straps (which peak just above 200K). Because of this, PGL™ products are now a superior replacement for aluminum foil thermal links at temperatures as low as 50K, and can be used in place of OFHC copper straps at temperatures as low as 70 - 80K (to reduce mass but offer similar thermal performance).
Pictured (Right): Custom PGL™ pre-thermal conductance test and shipment (May 2018).
Important Limitations To Consider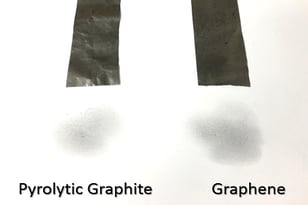 First and foremost: don't confuse "single/monolayer graphene," with "graphene films/sheets/foils," or be deceived by claims regarding the durability of pyrolytic graphite and graphene sheets. Straps can be torn if mishandled during installation, flexed on the lateral axis, or if they are subjected to repeated flexing or movement on ANY axis (as this can cause localized creasing, damage, and eventual tearing of sheets).
It is also important to understand that despite any claim to the contrary, all carbon materials; graphite, pyrolytic graphite, and graphene sheets/films/foils, will particulate, pose contamination risks, and generate FOD. As a result, all carbon-based straps must be encapsulated (typically with an aluminized mylar sleeve, or "blanket").
This does not mean that PGL™ and GTL™ products are not suitable for any application; only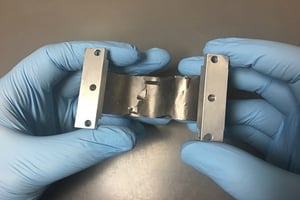 that they are ideal under certain circumstances, and environmental & operational conditions. Our experts will help you to determine which product best suits your operational environment and performance requirements, to ensure the success of your program.
Pictured (Top): All forms of graphite, pyrolytic graphite, and graphene foil/sheet present FOD & contamination risks (and must be encapsulated). (Bottom) First generation PGL/PGS thermal strap with tearing/mechanical failure due to improper handling during installation and removal from test fixture.
PGL™ & GTL™ vs. GFTS®