Which Strap Material is Best for My Application?
With several strap products to choose from, it is important to understand which material and configuration may make the most sense for your program, given your performance requirements, and the environmental conditions/operational environment. Our experts work with every customer to determine the best product to meet your requirements and budget (and all front end design and consultation services are free of charge), the table below outlines some of the most common requirements to consider when identifying the ideal thermal strap material and configuration:
| | |
| --- | --- |
| MASS LIMITATIONS | VIBRATION TRANSMISSION |
| VOLUME RESTRICTIONS | OPERATIONAL ENVIRONMENT |
| THERMAL CONDUCTANCE | FINANCIAL COSTS/BUDGET |
| CTE/MATERIAL MISMATCH | STIFFNESS REQUIREMENTS |
| RANGE OF MOTION | SPACEFLIGHT HERITAGE |
| MECHANICAL FLEXIBILITY | CLEANLINESS REQUIREMENTS |
| LOAD BEARING REQUIREMENTS | LIFE CYCLE BENDING / FLEXING |

While most customers are concerned with all, or a combination of many of these factors, perhaps the most significant (outside of the price), is the thermal conductance requirement (and how that relates to the material, operating temperature, the dimensions of the source and sink, and the available volume we have to work with).
For applications operating below ~80K, OFHC copper is the most affordable and popular option (with 5N aluminum offering higher performance at lower temperatures, but at exponentially greater cost). OFHC copper cabling straps offer the optimal combination of flexibility and high thermal performance & durability, at a fraction of the cost of any other metallic or carbon-based strap. For applications between 80K - 450K+, TAI will work with you to determine the ideal strap configuration and material, based on your budget, and performance requirements.
Strap Material Thermal Conductivity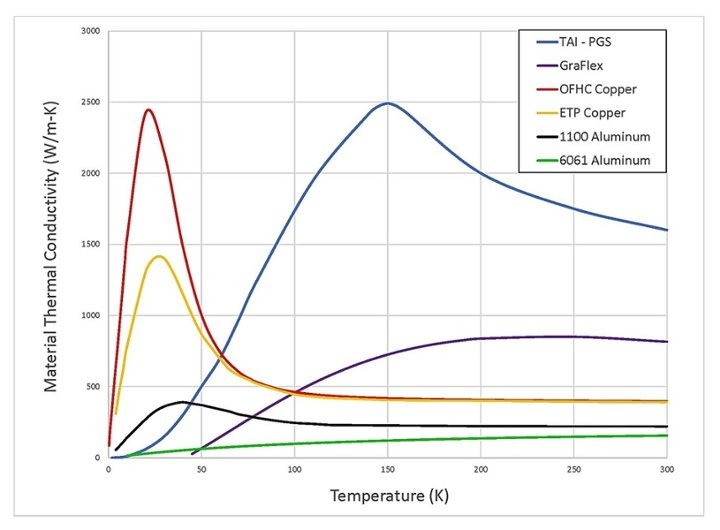 Metallic Straps
Copper Rope / Cabling Straps

(CuTS®)

Depending on who makes your straps, copper rope/cabling assemblies are either soldered/brazed/welded, or made by a swage/cold press process (by TAI). It is important to note that outsourced straps (from ALL other commercial suppliers or sources), are welded or crimped by third party machine shops in the US & China, and thus, present a number of performance, quality, and cleanliness issues (as they are stiffer, plagued by dimensional tolerance and surface flatness issues, heavily contaminated with greases and cutting fluids, and the assembly process results in exponentially greater resistance losses).
When it comes to flexibility, durability, and performance, the OFHC copper rope strap is the preferred, and most frequently used, in all industries/applications. They are the most durable of all heat strap products available, and are the ideal choice for applications operating at < 80K. They offer flexibility on all axes, and can handle exponentially greater loads and life cycle
bending/flexing (TAI's CuTS® assemblies utilizing our OFHC UltraFlex™ Copper Cabling, have been flex tested to 1,000,000 cycles).
Mass: Copper is heavy, and in extremely mass-sensitive applications, a graphite strap may be your only option. It is important to note that aluminum foil straps are not an ideal alternative to copper (when mass is a concern). Aluminum is far less conductive than copper, and stacked foil straps need to be designed into longer (and far thicker), S and U-shapes, in order to provide flexibility on 2 of 3 axes, and match the thermal performance of our CuTS® products (often negating the benefits of using aluminum to begin with).

Copper rope straps—even those made by TAI—can be stiff if multiple rows are incorporated into the design AND the cable length is less than 1.0 inch. At these shorter lengths, they still offer improved flexibility over stacked metallic foils, but they are not as flexible as single row or longer double row CuTS®.
Most customers prefer to use CuTS® for cryocoolers, space applications, electronics cooling, and cold laboratory instruments, because they offer the best combination of high flexibility, durability, thermal performance, vibration damping, and extremely low cost.
Volume-restricted applications (requiring high thermal performance), may sometimes benefit from a stacked foil configuration. Cu foil straps (CuFS™)—due to the increased density/cross sectional area of the flexible portion of the strap—can offer slightly improved thermal performance over rope straps/CuTS® (depending on the type of cabling/weave). In extremely mass-sensitive applications, a stacked aluminum foil strap may be a better alternative, but you often sacrifice performance. TAI does not currently offer standard aluminum thermal strap products, but we will be rolling out the new line in 2019.
Stiffness: Depending on the thickness and length, foil straps are often extremely stiff on each axis. As a result; they are typically designed into "S" and "U" shapes, to give them any flexibility at all (on the x and z axes). However, doing so increases the length of the strap, which often negates the benefits of using foils to begin with. For example: many of our customers are able to substitute a much shorter copper rope or carbon strap (with a gentle L or U shape), resulting in reduced or equivalent mass, while offering equivalent (or improved) performance. Further, substituting a cu rope strap (for an al or cu foil), often saves our customers thousands of dollars per unit (see below).

Many common assembly methods (brazing/soldering/welding), greatly increase stiffness.

Foil straps typically cost 2-5x more than our CuTS®. Not only are the materials more expensive, but the assembly process is more complex and involves additional steps and costs (thus the exponentially higher price).
In most cases, foil straps are not the ideal solution. However, there are specific applications and environments in which they may offer benefits over a graphite or copper rope strap.
Carbon-Based Straps
TAI offers multiple carbon-based strap products to provide customers with an ideal solution, under nearly any operational or environmental condition. Straps are either made using graphite fiber-based materials, or graphite and graphene foils and films (sheets). Each material offers a combination of mechanical and thermal performance, and financial costs to consider (and our graphite fiber, sheet and graphene foil are not to be confused with Thermacore's rigid
Annealed Pyrolytic Graphite
material, which is often used for structural components).
Graphite Fiber-based straps are made with our GraFlex material, with a thermal conductivity of 810 W/(m-K). Fiber-based straps are more durable and lighter than carbon film/foil straps, and they offer lateral flexibility/deflection (which is helpful for applications such as battery pack cooling, antenna arrays, optical instruments, and some deployable/moving/rotating instruments and equipment). The most notable attribute of our graphite fiber products is there high conductance to low mass ratio. The average GFTS® assembly is lighter than an equivalent carbon sheet strap, and just 1/5 - 1/10 the mass of an equivalent copper rope strap.
GFTS® products also have extensive spaceflight heritage, and are used in programs such as NASA's ORION, JAXA's ASTRO-H, Boeing's CST-100 StarLiner, ESA's EnMap, and many others.
While most straps are made with our GraFlex I and II, GraFlex III woven sheet is ideal for applications with extremely limited volumes, requiring flexibility on each axis. GraFlex rope and woven sheet material is also less expensive than PGS and Graphene Foils, as are GFTS® assembly costs.
Limitations: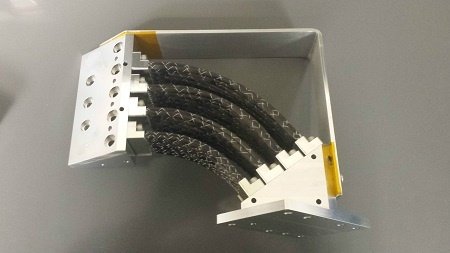 GFTS® products

—

while more robust than graphite and graphene sheet/foil straps

—

are delicate, and more fragile than metallic straps.
Fiber-based strap assemblies provide a fraction of the performance of their foil/film-based counterparts.
GFTS® assemblies, like metallic foil straps, need to be designed and assembled into their installed configuration/shape, and do not offer a large range of motion on all axes (like a copper cabled strap).
While they offer flexibility on the lateral axis, GFTS® assemblies are best suited to applications requiring less than 1.0" deflection on each axis, and are stiffer on the vertical and compression axes than a PGS-based strap.
Graphite and Graphene Sheet/Foil

(PGL™& GTL™)
Graphite and Graphene sheet/foil straps offer the highest thermal performance of any of the strap products (above ~80K); ranging from 1,600 W/(m-K) - 1,840 W/(m-K). Their compact profiles make them ideal for volume-restricted applications, and though more fragile than metallic and fiber-based straps, they offer a unique combinations of flexibility, low mass, and thermal performance.
TAI's Pyrolytic Graphite Thermal Links / straps (PGL™), offer the highest thermal performance of any carbon-based strap at cryogenic temperatures (with performance peaking at 150K), and PGL
™
products are an effective replacement for aluminum foil thermal links down to operating temperatures as low as 50K (and provide equivalent performance
—
at a lower mass
—
to OFHC copper thermal straps between 70 and 80K). Our
GTL™ products offer the highest thermal performance at operating temperatures from 200K - 350K, though they are not as flexible as PGL™ assemblies. Laboratory-verified tests demonstrate that GTL™ products can offer up to 4X the thermal performance of an equivalent GFTS® assembly, and 20% better performance over equivalent PGL™ assemblies.
Limitations:
All stacked pyrolytic graphite and graphene foils/sheets/films are extremely fragile. These can be damaged if flexed on the lateral axis after installed (or in a straight configuration), or if improperly handled.
Carbon-based straps are not ideal at operating temperatures below ~60K. For these applications, TAI generally recommends OFHC cu-based straps (though for any application operating between 50K - 80K, we will review your requirements and make recommendations based on your specific case).
Graphite/Graphene Sheet/Foil straps are expensive. While TAI's GFTS® products now sell for the same price as competing metallic foil straps, PGL™ and GTL™ products have somewhat higher material and assembly costs.
TAI provides on-site testing and analysis services here at our Boulder, CO facility (though we partner with an internationally renowned test facility for shock and vibe testing). From stiffness, to thermal conductance, thermal cycling, shock & vibe, tensile strength measurements and more, we have you covered! While we provide most of our own testing services, our sister company, TAI, Inc., can also provide some strap testing services, and they will be releasing their own thermal strap products and thermal management services in late 2018.
TAI also provides complimentary thermal assessments, providing mass and performance projections, schedule and pricing ROM's, and (when possible/if viable), Preliminary Trade Analysis of alternative aluminum and copper straps.