Thermal Straps
Custom & Standard Model Straps With Spaceflight Heritage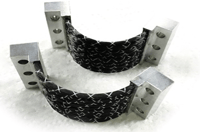 TAI offers the most comprehensive array of strap products in the industry (also referred to as "heat straps," "thermal cables," "flexible thermal links," and "thermal braids"). Our product lines include custom and standard model straps/links made of: OFHC copper (99.99 - 99.998% pure), our own GraFlex graphite bundles/rope (GraFlex I and II), our new GraFlex woven sheets (GraFlex III), pyrolytic graphite sheets, graphene sheets, carbon fiber composite, and aluminum.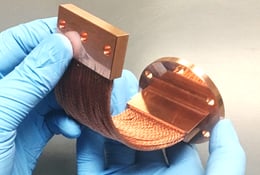 Why do we offer several strap options? Simply put: no single product is ideal under all environmental and operational conditions. Each type offers a unique combination of thermal performance, flexibility, durability (and financial costs), which customers must consider. Most importantly: while some materials may be ideally-suited to your application, your budget may dictate which strap you ultimately choose. Our team is here to identify, design and fabricate your ideal strap solution, given your budget and requirements.
To learn more about our product offerings, download a catalog or product guide today, call or email us, or complete a Thermal Strap Questionnaire to get your inquiry started. Remember: all front end / pre-purchase order design work is always free of charge, and our engineers and thermal strap experts are here to assist you at every step along the way!
Pictured (Right): Standard Series G6-501 GFTS® (December 2017), (Left) CS-68B Thermal Strap (January 2017).