THERMAL STRAPS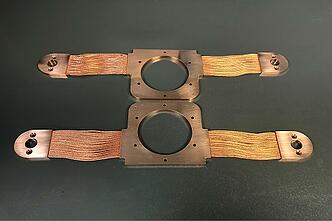 Thermal straps (commonly referred to as "flexible thermal links," "heat straps," and "thermal braids,"), are heat transfer devices consisting of end fittings (brackets/terminals/lugs), and a flexible conductive material such as copper cable & foil, aluminum foil, and graphite sheets or fiber bundles. They are a unique thermal management solution, offering a combination of conductive heat transfer, flexibility, and vibration attenuation, damping, and isolation. This combination sets thermal straps apart from heat pipes, flexible vapor chambers, and all other passive or active cooling and vibration isolation systems.

Straps transfer heat between two or more locations (a heat source and sink), and protect sensitive and valuable equipment when movements from shock, vibration, mechanical function, and thermal expansion or contraction occur. These can be related to events such as rocket launch, cryostat & cryocooler cool-down, and the day-to-day shock and vibration profiles associated with ground-based and airborne vehicle & equipment operation. They can be paired with vibration isolation systems and heat pipes to provide additional attenuation, heat transfer, and mechanical decoupling.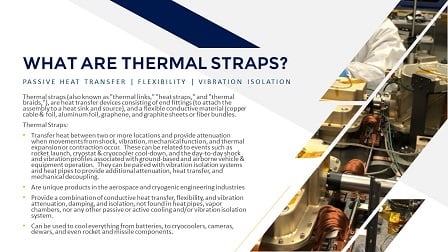 While straps are sometimes an afterthought, they are critical components in numerous thermal management systems in aerospace, and cryogenic engineering, semiconductor, light source, synchrotron, and other engineering applications. They play an important role in terrestrial systems, both in electrical component cooling at warmer operating temperatures and in cryogenic applications utilizing cryocoolers, dilution refrigerators, cold boxes, cryostats, and other cold laboratory equipment.
For additional thermal link information, download our handout: Thermal Straps - Performance, Pricing, and Product Options, and be sure to request copies of our catalogs. TAI offers hundreds of standard model thermal straps in addition to custom strap design, manufacturing, and test services, and can provide you with pricing, as well as mass and thermal conductance projections for any flexible link you may require. Each strap is meticulously designed and optimized to meet your performance requirements and the demands of your operational environment.