THERMAL STRAPS
Copper Cable | Copper Foil | Graphite Fiber | Graphene & PGS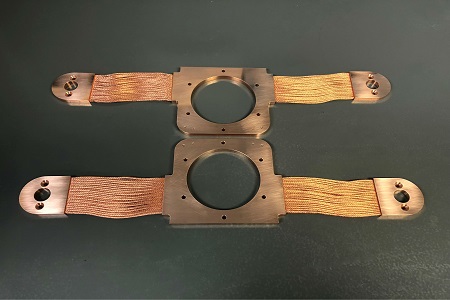 Thermal straps (commonly referred to as "flexible thermal links," "heat straps," and "thermal braids,"), are heat transfer devices consisting of end fittings (brackets/terminals), and a flexible conductive material such as copper cable & foil, aluminum foil, and graphite sheets or fiber bundles. They are a unique thermal management solution, offering a combination of conductive heat transfer, flexibility, and vibration attenuation, damping, and isolation. This combination sets thermal straps apart from heat pipes, flexible vapor chambers, and all other passive or active cooling and vibration isolation systems.
Straps transfer heat between two or more locations and provide attenuation when movements from shock, vibration, mechanical function, and thermal expansion or contraction occur. These can be related to events such as rocket launch, cryostat & cryocooler cool-down, and the day-to-day shock and vibration profiles associated with ground-based and airborne vehicle & equipment operation. They can be paired with vibration isolation systems and heat pipes to provide additional attenuation, heat transfer, and mechanical decoupling.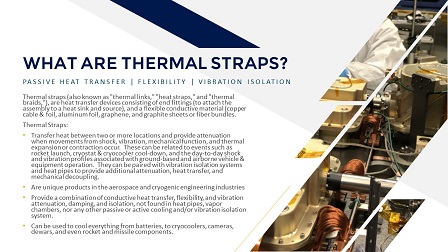 While straps are sometimes an afterthought, they are critical components in numerous thermal management systems in aerospace, and cryogenic engineering, semiconductor, light source, synchrotron, and other engineering applications. They play an important role in terrestrial systems, both in electrical component cooling at warmer operating temperatures and in cryogenic applications utilizing cryocoolers, dilution refrigerators, cold boxes, cryostats, and other cold laboratory equipment.
For additional thermal link information, download our handout: Thermal Straps - Performance, Pricing, and Product Options, and be sure to request copies of our catalogs.
TAI's Thermal Strap Heritage
TAI's strap heritage spans three decades and began with our very own, Scott Willen, who developed the first Graphite Fiber Thermal Straps (GFTS®), in SBIR Ph I and II contracts with the USAF in 1996 (this research was later published in Cryocoolers 11). GFTS® products gained popularity in 2011 - 2013, when several dozen assemblies, co-designed and manufactured by TAI Quality Manager, Trevor Sperry, were used to cool the phased antenna arrays and data acquisition systems on the ORION spacecraft, and compressors on JAXA's Astro-H satellite. Since 2015, GFTS® have played vital roles in notable programs such as Boeing's CST-100 Starliner, NASA's IXPE, and GRACE-FO satellites, ESA's Solar Orbiter, DLR's EnMAP, and several other spaceflight missions (in addition to ground-based applications in the medical and cryogenic engineering industries).
Our Copper Thermal Strap (CuTS®) heritage began in 2004, with our first-generation solderless copper braided straps (offered until 2014). TAI was the first and only supplier to offer a standard product line and catalogs, both created by our Director of Business Development, Tyler Link, in 2013. Two years later, our experts developed OFHC UltraFlex cabling, optimized end fitting design, and improved swage & final machining methods, all of which revolutionized our copper thermal strap product line. In 2017, this new generation of straps was studied by Fermi Lab and other universities and national laboratories (research was later published in volume 86 of the Journal Cryogenics, and co-authored by TAI's Tyler Link and Jamie Deal).
Work with Pyrolytic Graphite Sheet-based straps began in 2013, culminating in the X-Series® Strap; the world's first and only graphite and graphene sheet thermal strap standard product line (developed by TAI's Tyler Link, Dave Dyke, and Trevor Sperry). X-Series® PGS-based thermal straps (PGL™) were then space-qualified by NASA JPL in 2018 and advanced to TRL 7 with spaceflight qualification testing performed by Airbus and the DLR. PGL™ now plays vital roles in spaceflight programs with Lockheed Martin, Airbus, the DLR, and CNES (and like GFTS®, are also being used for ground-based applications in the medical and cryogenic engineering/cold laboratory instrument industries).