Thermal Straps
Custom & Standard Model Straps With Spaceflight Heritage
TAI offers the most comprehensive array of strap products in the industry (also referred to as "heat straps," "thermal cables," "flexible thermal links," and "thermal braids"). Our product lines include custom and standard model straps/links made of: OFHC copper (99.99 - 99.998% pure), our own GraFlex graphite bundles/rope (GraFlex I and II), our new GraFlex woven sheets (GraFlex III), pyrolytic graphite sheets, graphene sheets, carbon fiber composite, and aluminum.
Why do we offer several strap options? Simply put: no single product is ideal under all environmental and operational conditions. Each type offers a unique combination of thermal performance, flexibility, durability (and financial costs), which customers must consider. Most importantly: while some materials may be ideally-suited to your application, your budget may dictate which strap you ultimately choose. Our team is here to identify, design and fabricate your ideal strap solution, given your budget and requirements.
Pictured Above: Custom FM CuTS® - Cryocooler Cold Head (March 2016)
The Industry's Most Affordable, Highest Quality Straps / Links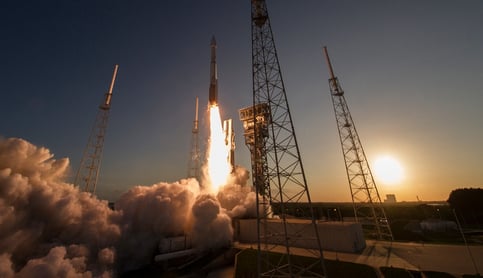 Pictured: NASA's OSIRIS-REx, Equipped With Custom CuTS® Assemblies Designed & Manufactured by TAI, Launches on September 8, 2016 (photo credit: United Launch Alliance)
Our goal is to provide our customers with the most affordable, yet highest quality strap solution available.
While all of our links / straps are made to the highest level of quality demanded by our spaceflight/satellite customers like NASA, ESA, and JAXA, even customers on strict university, national lab, or commercial electronics budgets can afford a strap solution from TAI (and we offer significant discounts to universities and national labs, as well as discounts to new and returning customers). Though we provide hundreds of assemblies annually for space programs, the majority of the links / straps we design and fabricate are used in ground based systems; in commercial electronics, optical, laboratory, cryogenic, semiconductor, and particle accelerator/synchrotron applications. To view hundreds of examples of our thermal strap products, visit our Copper Thermal Link / Strap Gallery and Graphite Thermal Link / Strap Gallery.
Our strap products, designs and processes have flight heritage, and our engineers, technicians and support staff have extensive experience with spaceflight programs (and the associated quality assurance and qualification/testing required by the industry's top primes). We can not only understand and comply with your organization's specific performance & quality requirements, but we can also help you draft your SOW, Specification, and RFQ. To learn more about our capabilities and common questions, please visit our FAQ page, or contact us today.