In addition to our strap products, TAI also specializes in aerospace and laboratory thermal management systems and product development. Our engineering team is currently developing state of the art flexible heat exchangers for the US Military and the aerospace industry (in DoD SBIR Ph I, Ph I extension, and Ph II contracts, and via independent commercial programs).
Because we have the proper production facilities, support staff, engineers, and a team of technicians (that have years of hands-on fabrication experience with every strap we sell), TAI alone has the capabilities and proven track record you can count on to fill any order. From a single strap for a focal plane or cryocooler, to tens of thousands of units for customers like the US Department of Energy, Fermi and Jefferson National Labs, Honeywell, BAE-Systems, and more, we've done it all, and our customer service, prices, and quality cannot be beat.
TAI's Flexible Thermal Link / Strap Products

TAI provides custom, and 66 standard model, OFHC copper cabling (99.99 - 99.998% pure), straps (CuTS®), and 6 standard model OFHC Cu Foil Straps (CuFS™). All standard and custom rope straps now come standard with our proprietary, TAI OFHC UltraFlex™ copper cabling (offering the highest degree of flexibility, while maintaining the same diameter and thermal performance as our standard OFHC cu braid), and TAI now offers nickel and gold plating for all of our CuTS® products.
TAI's CuTS® and CuFS™ are the most affordable copper rope/cabling straps commercially-available, and just a fraction of the cost of any other strap configuration/type (the average CuTS® is just 1/2 - 1/4 the price of any competing stacked metallic foil strap, and 1/4 - 1/10 the cost of any graphite/graphene/carbon-based strap). While they are most often used in ground-based applications by national laboratories, universities, and engineering/technology companies, our CuTS® are used in a number of US and European space programs including: GOES-R/S/T/U, DSAC, OSIRIS-REx, GRACE-FO, Solar Orbiter, METEOSAT and others (to learn more about CuTS® flight heritage and current space programs, visit our CuTS page).

TAI's GFTS® products are the space industry's standard for lightweight, high conductance, flexible carbon straps, and GFTS® assemblies alone have the Spaceflight Heritage required by NASA, JAXA, and ESA. Unlike graphene sheet thermal links (GTL™) or pyrolytic graphite sheet (PGS/PGL™) straps, GFTS® assemblies offer flexibility on all three axes, have been extensively space qualified, and offer superior durability. The average GFTS® assembly is a mere 1/5 - 1/10 the mass of equivalent metallic thermal links/straps, and they are ideal for thermally conductive vibration isolation. Typical GFTS® programs and FM units are now comparably priced with metallic foil straps, and more affordable than any competing carbon or graphite strap commercially available.
TAI offers our 2018 GFTS® Catalog, and launched the world's only GFTS® standard product line. The standard line consists of 6 models, available in multiple geometries/configurations, with customizable length and end fittings.
TAI's GFTS® assemblies have flown on the ORION, GRACE-FO, and ASTRO-H programs (in addition to several others), are currently being used in NASA's SPICE program, ESA's SORA, GPS III, EnMAP, Boeing's CST-100 Commercial Crew Vehicle, and numerous US and European commercial and research satellites scheduled for launch in 2018-2019.
TAI also offers Pyrolytic Graphite Sheet Thermal Links / Straps (PGL™), and Graphene Foil Thermal Links
(GTL™). Our PGL™ products offer the highest thermal performance in the industry, and use flexible graphite sheet with a material thermal conductance of 1,600 - 1,950 W/(m-K), and end fittings made of nearly any material (aluminum, titanium, copper, carbon composites, etc.). Our GTL™ products are made with Graphene Foils offering 1,840 W/(m-K), and end fittings of either aluminum or carbon composite.
While graphite and graphene sheet straps offer high performance, it is important to note that all carbon film/foil/sheet straps are more delicate than other strap configurations, and offer limited/no flexibility on the lateral axis. As a result, it is critical we have a complete understanding of your operational environment, and any load bearing, life cycle flexing/bending, and range of motion/deflection requirements.
Customers can now request the 2018 X-Series

™

Catalog. X-Series

™ standard models are available with either our PGS or Graphene Foil material, and come in 6 standard models, with 2 semi-customizable end fittings and bolt pattern / sheet customization at no additional charge.
Who (Actually) Makes Your Straps Matters...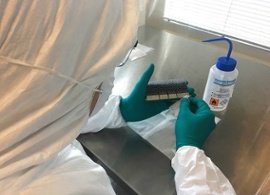 When your program is on the line, it's important you know who actually makes your straps—and that your strap supplier has an experienced team of engineering and assembly experts (to avoid quality, conformance, and performance issues). If your thermal strap supplier has never actually made the products they sell, nor has the proper manufacturing facilities or staff to fill your order, or if they rely on third parties (that come and go), to assemble their products, the risks to your program can be dramatically increased.
At TAI, all strap products are designed, assembled, tested, and subjected to extensive quality inspections, finishing & cleaning processes, right here at our facility, by our staff. Our team of technicians, engineers, and strap experts are here to ensure you get the highest quality product commercially-available, at the most affordable price in the industry.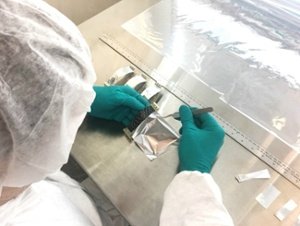 At TAI, we understand it is important that our customers are presented with the facts, all of the options, and a complete understanding of all of the costs and benefits of any strap material or configuration—before we sell any of our products. Setting your program up for success is (and will always be), more important than making a sale.
Pictured (Above): Technician Cleaning Flight Model GFTS® Assembly for the ORION Program (December 14, 2017). Pictured (Right): Technician Adding Mylar Blanket to Flight Model GFTS® Assembly (March 29, 2018).
Experts You Can Count On
With TAI, you have the comfort of knowing you can get a hold of experienced personnel at any time of day. Beyond our quality and lowest prices in the industry, what sets TAI apart is our unmatched customer service, efficiency, and availability. OUR EXPERTS ALWAYS PROVIDE FRONT-END DESIGN & ASSESSMENT SERVICES TO ALL CUSTOMERS, AT NO CHARGE.
Our Director of Business Development is available via phone and email from

6 AM - 10 PM MST (13:00 - 05:00

GMT), 7 days/week, to help you understand our products and start your inquiry.

Once requirements are established, our team provides all customers with complimentary design and assessment services to ensure they get the best strap solution given their needs and budget, and are always happy with their straps. Whether you need a custom or standard model strap, you can count on TAI.