CRYOCOOLER SERIES (CS) CuTS®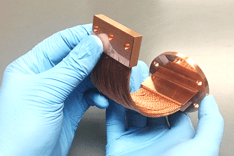 Thermal Straps for Cryocoolers / Cryorefrigerators
TAI now offers our exclusive Cryocooler Series (CS™) Copper Thermal Strap (CuTS®) standard product line. Cryocooler Series (CS™) CuTS® are based on common cold tip diameters from the industry's most popular cryocoolers, and from our customers' most frequent end fitting / terminal block styling requests. As with all standard model straps, cabling/rope length and bolt pattern customization is free of charge (as are our front-end design and assessment services). For minor changes to end fitting dimensions, please contact us to discuss.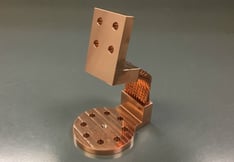 Please note that that TAI can customize any of the 72 CS™ Model CuTS® for a small additional fee, and we routinely provide fully custom cryocooler / cold head / dilution refrigerator thermal straps with any cold head diameter and end fitting configuration.
Pictured (Top): CS-68B CuTS® (January 2018). (Bottom): Customized CS-45AL Thermal Strap for NASA JPL (August 2017).
Cryocooler Series Copper Thermal Straps (CuTS®)
Most affordable straps in the Industry

No NRE or Design Fees

Typical 6-7 week lead times
Made entirely of 99.99 - 99.998% Pure OFHC cu (CU-101)
Solder-Free, never brazed/welded
Made with TAI's exclusive OFHC UltraFlex® copper cabling
Designed and fabricated for maximum flexibility
Available in single and double row straps

AVAILABLE IN 9 (2nd STAGE) COLD HEAD DIAMETERS

72 SUB-MODELS TO CHOOSE FROM

NICKEL AND GOLD PLATING AVAILABLE

Material Certs and CoC's - FREE
Bolt pattern customization - FREE
Cable length customization - FREE
Front-end Design & Projection Services - FREE
Large Discounts for All New Customers, University, NASA, and National Laboratory Customers
Custom and Standard Cryocooler Series CuTS® Examples
CS Model Examples

Pictured: Two submodels from our CS line.
*Complete drawings, details and specs on all of our 72 standard models can be found in the new 2023 CuTS® Catalog.
To see flexibility demonstrations of our standard and custom CuTS®, click here now! For important tips on designing and ordering thermal straps, please visit our new web page: Thermal Strap Design & Ordering Tips, now!
If you would like to submit an inquiry, download our CuTS® Questionnaire, complete, and send to our Director of Business Development, Tyler Link. Mr. Link is available to discuss your inquiry from 06:00 - 22:00 MST, 13:00 - 05:00 GMT, 7 days/week, and can get you an assessment in 1-3 business days (max).