University CuTS® Showcase
If your experiment or program requires copper thermal straps, we are happy to work with your university (or national laboratory), to get you the products you need at a price you can afford. TAI understands that university physics, chemistry, and aerospace engineering departments often do not have the same funding that our corporate customers enjoy. In order to help these programs and our future customers, students and faculty can purchase straps at a fraction of the commercial price. To learn how your program can qualify, contact TAI today.
The Majorana Demonstrator
University of North Carolina
Neutrinos are fundamental particles that play key roles in the early universe, cosmology and astrophysics, and nuclear and particle physics. Despite their abundant numbers generated by the sun, nuclear reactors, cosmic rays and in the big bang, they remain difficult subjects to study due to the weakness of their interactions. In particular, the masses of the neutrinos remain unknown, and it is uncertain whether neutrinos are their own anti-particles.
The Majorana Collaboration is an international effort with over 100 participants from 18 institutions in five countries, which is currently constructing the Majorana Demonstrator, an experiment that seeks to observe neutrinoless double-beta decay (0νββ), a decay mode of an atomic nucleus in which two neutrons convert to two protons and two electrons. This process has not been observed, and it is not known whether it exists. If this decay occurs, a fundamental symmetry of nature, lepton number, must be violated, the neutrino would be its own antiparticle, and the rate at which it occurs will be dependent upon the masses of the neutrinos. Current experimental lower limits for the half-life of 0νββ are in excess of 1025 years. This is an exceedingly long time, given that the universe is only 1010 years old!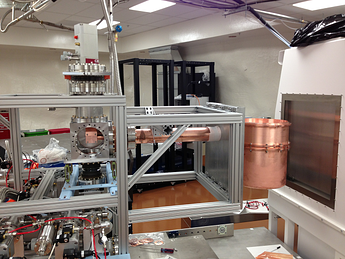 The Majorana Demonstrator will search for neutrinoless double-beta decay using a cryogenic array of germanium crystals enriched in 76Ge, an isotope which has the potential to undergo neutrinoless double beta decay. Germanium diodes are intrinsically pure detectors of radioactive decay, with excellent energy resolution. To reach new half-life sensitivities, great measures must be taken to eliminate background events that would mask a potential signal. Materials used in detector construction must be of the highest possible purity, to limit radiation from impurities. The experiment will be housed inside of thick layers of copper and lead shielding, to eliminate penetrating radiation from external sources. To reduce background events generated by cosmic rays, the experiment is located nearly a mile underground, in the Sanford Underground Research Facility (SURF) in Lead, SD. The Majorana Demonstrator is supported by the United States Department of Energy, Office of Nuclear Physics and the National Science Foundation, Particle Astrophysics program.
In order for the Germanium detectors in the Majorana Demonstrator to operated with optimum performance, they must be operated at near liquid nitrogen temperatures: 80 - 100K, in a vacuum environment. We are using copper thermal straps, designed and fabricated by Technology Applications Inc., as part of a cooling pathway between our array of Germanium detectors and a Pulse-Tube Cooler, which provides the cooling power. The straps performed perfectly, and there was no detectable degradtion of our vacuum performance using the OFHC Cu Braid under our vaccum conditions. We are very happy with the performance of the straps, the affordable price, and the high level of customer service and attention we received from their Marketing & Sales Department.
- Matt Green
Postdoctoral Research Associate
Majorana Collaboration
University of North Carolina - Chapel Hill
Superconducting QuBits
Yale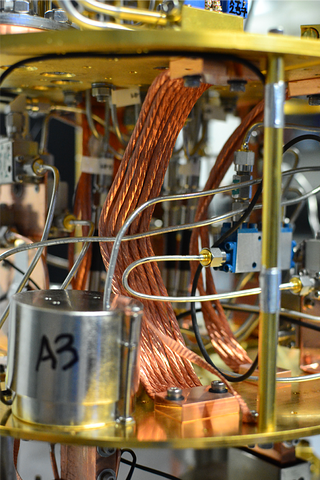 In our department at Yale, we study superconducting circuits; specifically ones that can be used as quantum bits, or qubits. Qubits are the quantum equivalent of computer transistors and are the basic building block of a quantum computer.
While these qubits have many possible physical implementations, we make them out of superconducting circuits consisting for a non-linear inductance made from a Josephson Junction and capacitance. The circuits are fabricated with Aluminium on sapphire and to work, need to be cooled to dilution refridgerator temperatures of about 10mK. This not only makes the devices superconducting but also makes these circuits behave quantum mechanically.
We ordered the P6-501 and P7-501 thermal straps for use at the base stage of a cryogen-free dilution refrigerator. In our fridge, we mounted a second stage, which we call the mezzanine, for mounting samples off the mixing chamber plate. However, we noticed that the mezzanine was many milli-Kelvin warmer than our mixing chamber stage which was at 7mK.
We installed 2 each of the P6-501 and P7-501 Cu thermal straps between the mixing chamber and mezzanine stage for improved thermal contact. The addition of these straps resulted in a noticeable drop in the temperature of the mezzanine plates from around 25mK to about 15mK. This dramatic improvement in the base temperature of our fridge and the excellent build quality of the straps means we will definitely be ordering more.
-Anirudh Narla,
Graduate Student, QuLab
Dept. of Applied Physics, Yale University