2018 Graphite Fiber Thermal Strap (GFTS®) Catalog
The World's Only Graphite Thermal Strap Standard Product Line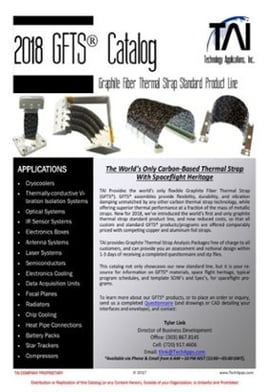 TAI is proud to introduce our first edition of the industry's first and only "Graphite Fiber Thermal Strap (GFTS®) Catalog." Our 2018 edition features 6 standard models, available in multiple geometries/shapes, without the burden of NRE or Design Fees associated with previous TAI prototype GFTS® programs
Standard units are length and bolt pattern customizable (at no additional charge), and most orders are shipped within 7 - 8 weeks. We also provide substantial discounts to all New Customers, NASA, ESA, and JAXA, as well as generous "Returning Customer Discounts" for all follow-on orders!
To request a copy, complete the form on the left, and our Director of Business Development, Tyler Link, will send you a copy. If you have more immediate needs or would like to discuss a GFTS® inquiry now, please feel free to contact us at anytime. Mr. Link is available from 6 AM - 10 PM MST/ 13:00-05:00 GMT), 7 days a week.
Ready to Submit an Inquiry?