COPPER FOIL THERMAL STRAPS (CuFS®)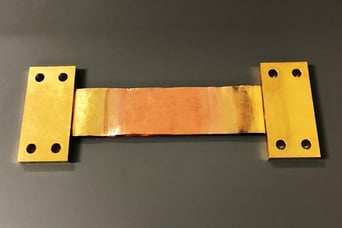 Generally, thermal straps made with copper cables offer the best overall flexibility-to-thermal-conductivity ratio, and the lowest cost of any metallic strap configuration (to learn more about which strap configuration best meets your needs, visit our Thermal Straps page).
However, there are instances where flexibility is not needed in all 3 axes, and tight packaging constraints (limited volume), low operating temperatures, and high thermal conductance requirements, may make an OFHC copper foil thermal strap (CuFS®) a superior alternative to cu rope or carbon straps.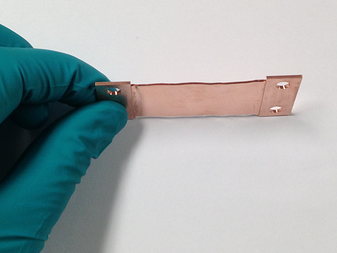 Pictured (Above): LAB GRADE Gold Plated Copper Foil Thermal Strap (November 2018).
Though TAI offered (limited) custom CuFS® products since 2014, we now offer our first standard line, the "F-series." As with our popular CuTS® products, because TAI actually makes the straps we sell, customers are no longer limited to simple, rectangular end fittings/terminal blocks (commonly associated with outsourced, welded foil straps from machine shops in the US and Asia). Come back this fall for pictures of TAI's new straps!
While we are rolling out our new catalog and standard line, please feel free to contact TAI about any custom CuFS® program you may have. To discuss your CuFS® inquiry or to place an order, contact our Director of Business Development, Tyler Link.
Pictured (Left): Custom Foil Thermal Strap (July 2013).
CuFS

®

Standard Product Line
TAI now offers 6 standard models, and our full line of 24 standard models (and the new CuFS

™ Catalog), will be introduced in 2019. TAI

provides our newest copper thermal strap products in 3 fixed widths, with multiple thickness, installation configuration/design options, and with many of our popular end fitting designs. Just like our cabling/rope straps, these straps can be manufactured and shipped more quickly than custom straps (4 - 6 weeks on average).
All Straps are Length and Bolt Pattern Customizable at NO CHARGE.
Standard Models:

Details on the 24 models that comprise the F5, F6, and F7 series will be added to this page in the summer of 2018---Our apologies for the delay; we've been a little busy filling orders for our popular CuTS® products, and rolling out our new PGL and GTL lines.
Pictured (Right Top and Bottom): F5-501 with custom bolt pattern (April 2018).
Comparison of Thermal Conductivity
Pictured (Top Left): conductivity graph of typical cryogenic thermal strap materials. (Top Right): F5-501 CuFS® pre-conductance test and shipping (April 2018).