Copper Foil Thermal Straps (CuFTS)
Generally, thermal straps made of braided copper ropes offer the best overall flexibility-to-thermal-conductivity ratio, and the lowest cost of any metallic strap configuration (to learn more about which strap configuration best meets your needs, visit our Thermal Straps page)
However, there are instances where flexibility is not needed in all 3 axes, and tight packaging constraints (limited volume), low operating temperatures, and high thermal conductance requirements, may make an OFHC copper foil thermal strap (CuFTS) a superior alternative to cu rope or carbon straps.
While TAI has fabricated cu foil straps in the past, we will not be releasing our CuFTS products or CuFTS standard product line (and catalog), until mid-2017.
In the meantime, we urge all customers looking for a foil strap to consider a copper rope CuTS™ or Carbon based straps instead. TAI's rope CuTS™ cost just a small fraction of any competing copper or aluminum foil strap, while offering exponentially greater flexibility and range of motion. Further, TAI's rope CuTS™ are a favorite among universities and particle accelerator labs across the globe (with some of our best customers being the top universities in the US and Europe, Fermi Lab, ESRF, Thomas Jefferson Lab, Argonne Lab, STFC/Diamond Lab and many others).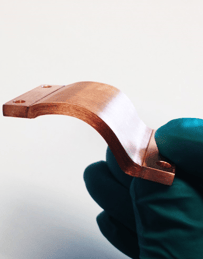 As with our popular CuTS products, TAI will manufacture both custom and standard CuFTS (standard models will be released later this year). Custom straps will once again (typically) cost the same as standard units, with a small NRE/Design Fee added. Please note that the cost of any CuFTS will be higher than copper rope straps due to higher material and fabrication costs.
TAI will offer the same testing and "add-on" options as our CuTS product line. Please be aware that stiffness testing may be critical to your program, as nearly all foil straps are far less flexible than their rope counterparts.
To discuss your CuFTS inquiry or to place an order, contact our Director of Business Development, Tyler Link.
Coming Soon: CuFTS Standard Product Line
TAI will provide our newest copper thermal strap products in 4 fixed widths, with multiple thickness options. As with our braid straps, these straps can be manufactured and shipped more quickly than custom straps (4-6 weeks on average), and they will be more affordable than other metallic foil straps available.
All Straps are Length and Bolt Pattern Customizable at NO CHARGE
Standard Models:
(Details on the P10-501, P11-501 and P12-501 will be uploaded to this page during the spring of 2017. For questions regarding our CuFTS, please call our Marketing Manager).
Comparison of Thermal Conductivity