THERMAL STRAPS
Copper Cabled Thermal Strap Assemblies (CuTS®)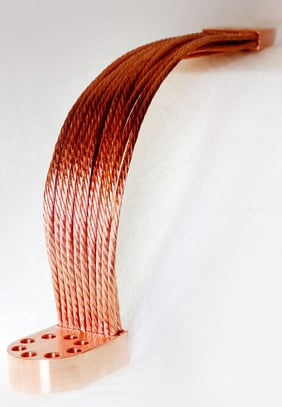 Thermal Straps made with flexible copper cabling and fittings (CuTS®), also referred to as "heat straps," "conductive flex links," or "flexible thermal links," provide passive thermal control and thermally-conductive vibration isolation in a wide range of applications in the cryogenic engineering and light source industries, in equipment ranging from cryocoolers to cryostats, dilution refrigerators, cold boxes, and cryomodules. They are also used by aerospace and engineering companies specializing in photonics, semiconductors, optical systems, electronics boxes, satellites, and various laboratory test platforms. These flexible thermal links are made using conductive OFHC copper cable ("braid") and end fittings (brackets used to fix the strap to a heat source and sink), to offer a combination of capabilities not found in heat pipes or other passive thermal solutions. The solderless, heat-free manufacturing process, refined over decades and tens of thousands of units, optimizes flexibility and minimizes contact resistance losses, resulting in a highly efficient flexible thermal link; ideal for heat transfer at nearly any operating temperature. The level of quality and thermal efficiency we can achieve utilizing this process makes CuTS® unique in our industry, and our links have been featured in multiple articles in the Journal Cryogenics, and over ten thousand of our straps are used across the United States, Europe, and Asia, to cool equipment at national laboratories and particle accelerator facilities. Beyond the assembly method, several key factors make CuTS® unique:
In-House Thermal Strap Manufacturing:

m

ost commercially-available thermal straps on the market today are outsourced and repackaged from third-party machine shops. These products are stiffer than CuTS®, often plagued by dimensional non-conformities, tolerance & cleanliness issues, and offer poor performance at cryogenic temperatures. In-house fabrication

—

by our team of highly trained technicians and machinists

—

ensures strict quality control, the lowest pricing in the industry, and allows TAI to guarantee our products with a one-year warranty.

Cable Flexibility: CuTS® are made with TAI's exclusive OFHC UltraFlex® I & II copper cabling, and swaging preserves cable flexibility (unlike assembly methods that rely on heat).

Standard and Custom Designs: CuTS® are available in custom, and over120 standard models.

Gold & Nickel Plating Options: Copper and aluminum-copper hybrid CuTS® are available with nickel and gold plating options exclusively offered by TAI.

Thermal Strap Spaceflight Heritage: CuTS® are NASA TRL 9 and have extensive flight heritage on satellites, cubesats, and commercial crew and cargo vehicles.

Experience: The TAI team has a combined total of 68 years of manufacturing, design, and qualification experience, and has designed and delivered more thermal straps than any organization on the planet.

Manufacturing Capacity - TAI is the only supplier with the equipment, facilities, and technical, administrative, and manufacturing staff required to fill production orders (and we have the track record to prove it). See our Program History section below for more details.

Whether you need a single link for a dewar, focal plane, or cryocooler, or tens of thousands of thermal straps for cold boxes or military optical systems, you can count on the experts at TAI. To learn more about TAI's products, strap conductivity, and applications, download our handout: Thermal Straps - Performance, Pricing, and Product Options. Be sure to also request your copy of our CuTS® Catalog below.
Visit our

Thermal Strap

Design Galleries to See Hundreds More!

*Unlike some of our competitors, TAI does not post stolen or edited images in an attempt to misrepresent our design, production, or plating capabilities, spaceflight heritage, or program history.
Custom & Standard Model CuTS®
TAI is the only supplier that offers a fully-customizable standard line of strap products, and each year we release our annual edition of the CuTS® Catalog. Our Catalog now features 121 Standard Models (though roughly half of the straps we manufacture are completely custom), and copies are available by request. Our standard line is comprised of our Standard and Cryocooler Series model thermal straps, and the catalog outlines customization options in addition to performance and mass projections for each model (and at multiple operating temperatures).
While Standard and Cryocooler Series CuTS® provide customers with the most affordable option and shortest lead times, custom units typically cost the same (on a per-unit basis) but require an additional week for design and fixturing. To learn more about our standard and custom strap offerings, request a CuTS® Catalog.
Ordering Your CuTS®
If you have already selected your standard CuTS® model(s) from the catalog, please complete Thermal Strap Questionnaire and Ordering Form found here:
https://www.techapps.com/hubfs/TAIs_Thermal_Strap_Questionnaire_and_Ordering_Form.doc
...And submit the questionnaire to our Director of Business Development at
tlink@techapps.com,
to receive your quote.
S

TANDARD SERIES

Typical 5-6 week lead times
Solder-free, never brazed/welded
Available in single and double row straps
Available in 3 fixed widths
48 MODELS TO CHOOSE FROM
NICKEL & GOLD PLATING OPTIONAL
2 Cable diameters to choose from
Material Certs and CoC's - FREE
Bolt pattern customization - FREE
Cable length customization - FREE
Available with Aluminum Fittings
Large Discounts for All New Customers, University, NASA, and National Laboratory Customers

Pictured: P6-503 CuTS® Units - Counterbored Bolt Holes and TAI Standard OFHC cu Braid

Typical 6-7 week lead times
Solder-free, never brazed/welded
Available in single and double row straps

Based on 9, 2nd Stage diameters

72 MODELS TO CHOOSE FROM

NICKEL & GOLD PLATING OPTIONAL

2 Cable diameters to choose from

Material Certs and CoC's - FREE
Bolt pattern customization - FREE
Cable length customization - FREE
Available with Aluminum Fittings
Large Discounts for All New Customers, University, NASA, and National Laboratory Customers

Pictured: CS-68B (Cryocooler Series CuTS®) with OFHC UltraFlex™ Cabling

Typical 6-7 week lead times
Solder-free, never brazed/welded
Available in single, double, and triple row straps
Available in any width

Cabling diameter customizable

NICKEL & GOLD PLATING OPTIONAL

2 Cable diameters to choose from

Material Certs and CoC's - FREE
Bolt pattern customization - FREE
Cable length customization - FREE
Available with Aluminum Fittings
Large Discounts for All New Customers, University, NASA, and National Laboratory Customers

Pictured: Custom CuTS® - Pulse Tube Cold Head Adapter Ring and OFHC UltraFlex™ Cabling
Superior Thermal Performance
TAI's thermal straps are fabricated using only high purity, OFHC copper cabling and fittings. This 99.99 - 99.998% pure copper, combined with our unique cold-press assembly process, make CuTS® ideal for use across a wide temperature range, and our custom and standard products have been qualified at temperatures from 150mK - 873K.
Determining the thermal performance of a thermal strap at your particular operating temperature requires more than just an understanding of copper's material thermal conductivity across a temperature gradient. The residual resistivity ratio (RRR) of the copper (in the assembly as a whole), will more accurately represent the thermal conductivity at cryogenic temperatures than the material purity alone (OFHC copper typically has a RRR between 50 - 150). To learn more about the RRR of OFHC copper and other materials, visit NIST's Cryogenic Material Properties Page, here.
Fortunately, TAI's copper thermal straps have been extensively tested (on the assembly level), by researchers at numerous US National Laboratories, and have produced a consistent RRR of 75 - 100+. Should your application require additional thermal performance, CuTS® can always be vacuum annealed or e-beam welded to increase RRR (TAI does not perform these services at our facility).
However, superior performance is more than just materials; it is predictability, consistency, and the ability to provide accurate conductance projections at any temperature for any design. This requires extensive testing and the design, manufacture, and qualification of thousands of straps. Our experience and strict quality control allows TAI to continuously refine our projection software and capabilities and enables our experts to provide highly-accurate performance projections from 1K, to 900K, accounting for contact resistance losses at the heat sink and source interfaces, and various thermal interface materials including eGraf, Sigraflex, or Indium foils.
Pictured (top left): Historical NBS measurements of copper thermal conductivity.
Thermal Strap Conductivity Calculator
Engineers that have downloaded our 2020 and 2021 CuTS® Catalogs can now use our Conductivity Calculator app to calculate the thermal conductivity of many of our copper thermal straps at various rope lengths. To learn more about our standard models and use the app, request a copy of our new catalog, or contact our Director of Business Development (if you are a previous customer).
More models, product calculators, and calculator options are coming throughout 2021, so be sure to bookmark this page today, and come back and visit our Graphite Fiber, and X-Series® Strap Pages.
OFHC UltraFlex™ I & II Copper Cabling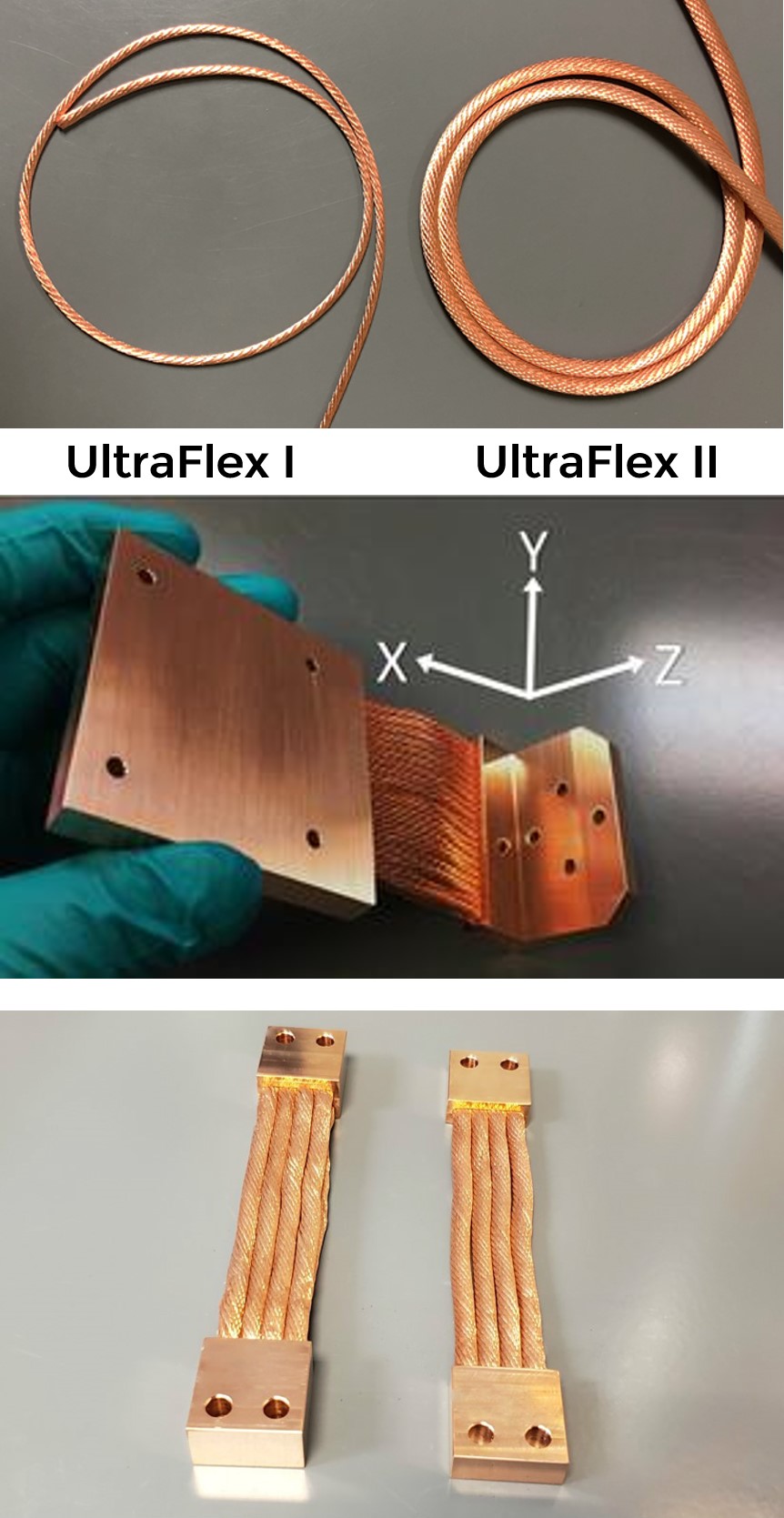 OFHC UltraFlex™ I is our 0.10" (2.5mm) diameter cabling. It was developed by our engineers in 2016, is only available from TAI, and is specifically designed to provide increased flexibility, while maintaining the same diameter and thermal performance as our previous TAI Standard OFHC copper braid. CuTS® assemblies made with OFHC UltraFlex™ cabling offer >65% flexibility on the compression axis (X), and average >25% flexibility on the Y and Z axes than other commercially-offered thermal straps and shunts using braided (flat and rope) materials. Though our team has extensive experience with multiple cable and braid types, all of our custom and standard CuTS® come standard with our OFHC UltraFlex™ I and II Copper Cabling.
OFHC UltraFlex™ II is our 0.20" (5mm) diameter copper cabling and is used in custom and standard models. UltraFlex II is unique in the industry, is only available from TAI, and is the industry's most flexible 0.20" diameter cabling. This cabling is ideal for customers with larger heat dissipation needs with the available volume to accommodate thicker end fittings.
In addition to US National Laboratory thermal conductance qualification in the mK and 1K - 10K range, TAI's CuTS® products have successfully passed multiple life cycle flex tests, of up to 1 Million flex cycles on the compression axis. To view videos of the life cycle flex tests, click here now.
Pictured (Bottom): TAI CuTS® Models P60-501 and P60-502, using our exclusive OFHC UltraFlex™ II (July 2019).
Aluminum End Fittings (Hybrid Thermal Straps)
Aluminum 6061 end fittings are available on all of our standard and custom copper thermal strap products. Aluminum fittings are 70% lighter than their copper counterparts and have a negligible impact on thermal performance. This option is available at no additional cost, and our expert technicians can also directly integrate our OFHC UltraFlex I and II Cabling into aluminum cold plates, adapter/extension brackets, and other components.
Pictured: (left) Custom Hybrid CuTS® with Al 6061 fittings (customer name/program withheld); (center) Custom Hybrid Thermal Straps used on SUrface Dust Analyzer instrument on the Europa Clipper Mission (March 2019), (right) Hyrbrid P5-502 and P5-505 CuTS® (customer name/program withheld).
Gold & Nickel Plated Thermal Straps
CuTS® are available with gold and nickel-plating options exclusive to TAI. For customers requiring gold plating, we offer multiple diffusion barrier options (both magnetic and non-magnetic), and straps can be plated to certain ASTM standards (B-488 Type I & III, Code C & D, for example). However, our two most popular gold plating options are TAI's "Lab Grade" (99.7% pure gold, non-magnetic diffusion barrier), and our "NASA Grade" (99.99% pure, "hard gold" plating, with a Knoop Hardness of 180, and electroless ni diffusion barrier). Plating straps will increase unit cost and lead time by 1 - 2 weeks (depending on plating type); so plan accordingly.
TAI designs, assembles, plates, and cleans our thermal straps using proprietary methods (developed by our experts) so that each assembly is as clean as possible. While customers consider them UHV-compatible/ready, we recommend a vacuum bake-out prior to installation in UHV and optical applications (as we cannot guarantee cleanliness to a specific spec). RGA Spectra analysis proves TAI's plated thermal straps are as clean as non-plated CuTS® that are ultrasonically cleaned and subjected to a standard vacuum bake out (24 hours at 150C).
Click Here to See our New Nickel & Gold Plated Thermal Straps Design Gallery
| | | |
| --- | --- | --- |
| LAB GRADE Gold Plating - JANIS ST-400 Cryostat | LAB GRADE Gold Plating | Electroless Nickel (High Phosporus) |

Using our plating technique, there is virtually no measurable impact to flexibility/stiffness of the copper cables.
Pictured (Top Left): P6-501 units with Nickel and Gold Plating, Post-Bake out and RGA Spectra Analysis (August 2017).
Gold & Nickel-
Plated Al-Cu Hybrid CuTS®
Exclusively developed and offered by TAI starting in 2019, all of our Al-Cu hybrid thermal straps can now be gold or nickel plated. Before this development, only straps made entirely from copper could be plated (due to the chemicals and processes required with traditional metallization/plating). With this novel offering, if your strap requires the corrosion protection of plating as well as the thermal performance of OFHC copper cables, you now have the added benefit of lightweight aluminum end fittings (reducing total strap mass by as much as ~55 - 60%, depending on rope length); making hybrid straps a potentially attractive option for many airborne and spaceflight systems.
| | |
| --- | --- |
| P5-502 Model Hybrid CuTS (June 2019) | P5-502 Hybrid CuTS with Electroless Nickel Plate (September 2019) |
Gold Plating Thermal Straps for Cryogenic Applications
Contact resistance at cryogenic temperatures affects a large number of devices and equipment used in terrestrial and spaceflight applications. These include star trackers, detectors, dark matter and dark energy experiments, electronic packaging of superconducting circuits, and cryogen-free systems (conductively cooled via cryocoolers). Additionally, engineers working with dilution refrigerators, cryostats, and cold boxes are often equally-sensitive to thermal contact resistance losses, and in need of a means to improve efficiency.
Poor thermal contact with your thermal straps, as a result of low torque on bolts, or lower quality thermal interface material, can lead to longer cool-down times for cryocoolers, reduced heat transfer and cooling capacities in systems, and large temperature gradients across the contact for small heat flows during operation. These problems become more severe as operating temperature decreases (which is why gold plating thermal straps used in cryogenic systems is preferred).
Due to its low oxygen affinity, gold plating of copper fittings and cables is a highly effective solution to prevent oxidation and achieve electronic thermal conductance across interfaces. Additionally, surface oxide of gold breaks at a low applied load, thereby giving a larger probability of achieving a metallic contact. Gold also has a lower surface hardness than copper, and as a result, gold plated contacts have a larger area of physical contact, and therefore, lower thermal resistance for a given applied force. Gold plating also is used to minimize the absorption of radiant heat, and TAI's gold plating options offer the lowest surface emittance in the industry.
Pictured (Top Right): NASA GRADE Gold Plating CuTS®.
Content Credit: Ram Dhuley, FNAL, "Pressed copper and gold-plated copper contacts at low temperatures – A review of thermal contact resistance"
CuTS® Spaceflight Heritage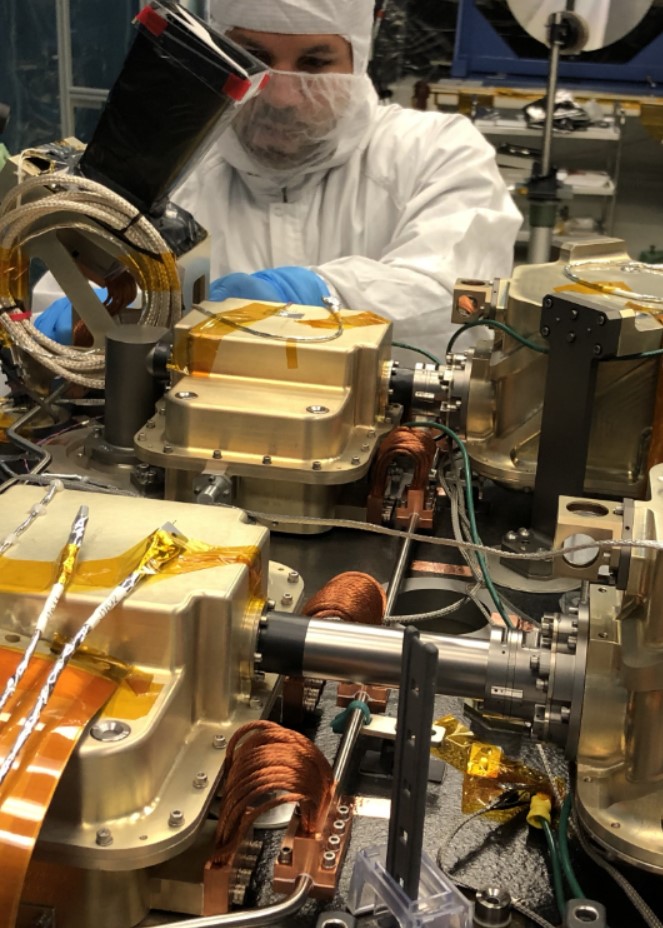 The list below details just a handful of the missions that use our copper thermal strap products:
In 2016 - 2022, TAI provided over 2,000 prototype, "proto-flight," and flight model (FM) thermal straps for numerous space programs (and for nearly all commercial crew/manned spacecraft programs). Our customers include : NASA, ESA, Lockheed, Airbus, Raytheon, OHB, Thales, L-3, Honeywell, Harris Corp., MIT, Orbital ATK, Surrey Satellite (SSTL), Northrop Grumman, ABB, Micos, and many others we are not at liberty to disclose due to non disclosure agreements.
Pictured: NASA Engineer prepares the GEDI Sensor (complete with 9 CuTS®), for launch (Fall 2018).
CuTS
®
Production Program History -

Newly Updated
While our CuTS® products have been used in spaceflight (commercial crew and cargo), defense, and commercial electronics production programs (300+ thermal straps) which we cannot disclose (due to NDA's with customers), TAI has supplied tens of thousands of flexible thermal links to a number of important production programs in the United States and Europe. The list below details just a few of these programs:
BAE Systems Vehicle Mounted Optical System (program name withheld) - (2014 - 2019) - TAI delivered nearly

1,000 custom CuTS®

for optical systems mounted to aircraft and military vehicles.

Department of Energy

(program name withheld) - (2014 - 2021) - TAI delivered over

1,500 custom CuTS®

to the DoE.

(CONFIDENTIAL) Autonomous Vehicle Fleet Program (name withheld) - (2017 - 2019) - TAI delivered nearly

3,000 custom CuTS®

as part of a custom cooling system for autonomous vehicle fleets.


SLAC's LCLS-II - (2016 - 2017) - TAI supplied nearly

3,000

standard CuTS®

for the cryomodules used in the LCLS-II over 18 months.

Argonne Lab's APS-U -

(2020 - 2022)

- TAI will supply over

600 standard and custom CuTS®

for 4 cryostats that are used by the superconducting undulator beam chamber as part of the

Advanced Photon Source Upgrade Project (APSU).

SLAC's LCLS-II-HE - (2021 - 2022) - TAI will supply nearly 1,500 standard CuTS® for the cryomodules in the LCLS-II-HE upgrade over 2021-2022.

Fermi Lab's PIP-II -

(2018 and 2021)

- TAI was selected to supply over 300 custom and standard CuTS

®

for the SSR1 and HB650 Cryomodules as part of the Proton Improvement Plan (PIP-II) program.


Department of Energy (program name withheld) - TAI supplies over 1,200 custom CuTS® to the DoE between January 2022 - August 2023.


(CONFIDENTIAL) Mining and Oil/Natural Gas Equipment - TAI supplies over 1,000 custom CuTS® to an international oil and natural gas equipment manufacturer between Spring 2022 and Summer 2023.


(CONFIDENTIAL) Commercial Spaceflight/Satellite Programs - TAI supplies over 1,000 standard model CuTS® to commercial space flight company for multiple missions between January 2022 and December 2022.
| | |
| --- | --- |
| Pictured: SSR1 Cryomodule used by Fermi Lab (photo credit FNAL.gov) | Pictured: CuTS® mounted inside an SSR1 Cryomodule (photo credit FNAL.gov) |
CuTS® for University Research Programs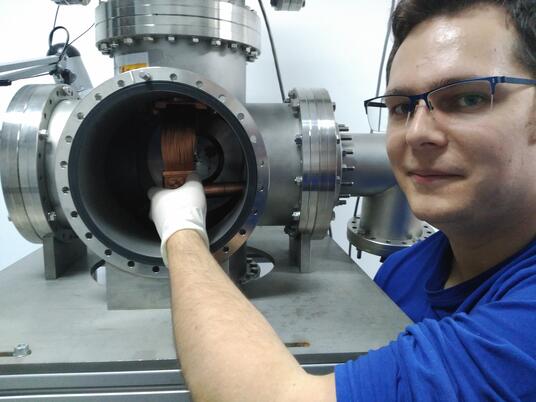 TAI offers unique partnership and support opportunities for our university (and some) national laboratory customers across the globe. From exclusive offers and reduced pricing of each of our thermal straps to complimentary thermal system design and manufacturing services for cutting-edge programs in the areas of physics, chemistry, and aerospace engineering, our team is happy to help!
TAI also offers free thermal straps to a select group of university programs each year, in addition to these discounts. Visit our University Showcase Page for a small sample of previous participants in our program, and contact TAI today to learn how your program could benefit from discounted or free thermal straps.
Thermal Strap FAQ's
How Much do Thermal Straps Cost?

The price of a thermal strap is heavily dependent upon the following factors: quantity required, conductive material used, complexity of the design (is it a standard model or fully custom), strap plating, and program testing & reporting requirements. In general, most copper cabled straps may cost as little as one hundred dollars to as much as a few thousands of dollars or more per unit, depending on these factors. However, graphite and graphene-based thermal straps will typically cost thousands of dollars each due to the NRE and expensive materials required for each assembly.

Important note: TAI provides all thermal strap design and consulting services at no charge, so our customers know exactly what they are getting before an order is ever placed. Contact us today to begin work on your inquiry.
What do I Need to Start a Thermal Strap Design Program?

To start your inquiry and the design process, we recommend you follow each step below:

Request the desired thermal strap catalog(s) from the TAI website.
Complete the Questionnaire provided with the catalog.
Send the Questionnaire and STP files detailing the available interfaces and envelope(s) we have to work with, to TAI.
Be sure to provide as much detail as possible and plan ahead. While we are the largest strap supplier in the industry and have multiple Design Engineers to help finalize a strap design for your program, most orders take 6-8 weeks to manufacture and ship (expedite may be available), and the initial design/inquiry process can take anywhere from 1 - 10+ business days depending on the number of designs required, complexity of the designs, amount of information you can provide, and our current workload.
What Thermal Strap Cleaning and Testing Services does TAI Offer?

After fabrication, all copper straps are tested and then ultrasonically cleaned and bagged before shipping. TAI offers optional nitrogen purged bags for shipping your straps, but we also recommend that any thermal strap used in a UHV, sensitive optical, or space/satellite application, undergo any additional cleaning spec/procedure your organization requires for copper hardware. For example, some laboratory and aerospace customers will perform an additional round of ultrasonic cleaning in a bath of Alconox™, Citranox™, acetone, or various copper cleaners (and then perform a vacuum bake out), before installation. In rare cases (such as sensitive satellite optical systems), some customers may require their copper straps are cleaned to a specific spec. TAI does contract with a partnering test and cleaning facility to perform the cleaning in these cases.

TAI provides a comprehensive range of strap testing services to our clients (some of which are complimentary, and other services are offered at an affordable rate and performed either here at our facility, or by one of our internationally renowned testing facilities). Each assembly will pass quality checks and undergo thermal conductance testing after construction to verify requirements-compliance. TAI's Management, Engineers, and Program Managers have extensive experience with the Quality Assurance processes and qualification that is required by the industry's top primes, NASA, ESA, and JAXA.

Pictured (Above): Custom UHV Chamber CuTS® [Post-Polishing] (1/9/18). (Left): Custom FM CuTS® - ESA Solar Orbiter (February 2016).
Does TAI Provide Thermal Strap Flexibility Demonstrations & Stiffness Data?

Check out our Copper Thermal Strap flexibility demonstration videos.

TAI also offers stiffness graphs taken from several custom and standard model copper thermal straps we've manufactured. While the data gathered is not a guarantee of performance in your own design (as stiffness is a function of the rope/cable/braid type, the rope length (RL), number of ropes and number of rows), it can provide you with a rough understanding of what to expect (in N/mm, on each axis).

Contact TAI for more information.
What's The Difference Between Outsourced vs. In-House Thermal Strap Manufacturing?

Selecting a reputable, experienced thermal strap supplier is a critical decision when your program (and even lives) are on the line. So, how do you know what you are buying, if they are a trusted supplier, and who is

actually

making the products you are purchasing?

There are several important questions to consider when ordering these products given the substantial differences between in-house and outsourced manufacturing:

Will your thermal straps arrive damaged, unusable, or extremely dirty?

Is the supplier involved in each step of the process, or do they only place an order to a 3rd party machine shop?

Are the links assembled by children, day laborers, or unskilled machine shop workers (yes, this is the case with some US-based suppliers).




Has your supplier ever made this particular type of strap?

Has the supplier ever plated a thermal strap, or do they try to fool you by using color filters and editing photos of bare copper units to make them appear to be plated with nickel or gold?

What risks are these issues going to expose your program to (from a quality, durability, or cleanliness perspective)?

Unfortunately, this is all too common an issue in our industry, and when a supplier has zero hands-on experience manufacturing the copper straps they sell, no production facilities—nor production staff—this dramatically increases the risk of issues like:

Dimensional non-conformities,

Oils, cutting fluids, grease, and other contaminants, and

Damaged/unusable straps

Production Orders: when you need thousands, or tens of thousands of units (like many of our customers), it's important to ask other questions: "Do they have the necessary staff (technicians, engineers, and administrative personnel), and an actual manufacturing facility to fill my order?" Or, "Do they have a track record of production programs, and timely, successful deliveries?"

With TAI, no matter the application, quantity, or budget, your thermal straps will always be made to the same quality standards demanded by organizations like NASA, ESA, or Lockheed Martin, yet will be the most affordable conductive link product on the market.

Pictured (Above): 60,000 feet of our OFHC UltraFlex™ Cabling.
Other Strap Manufacturing & Integration Capabilities

Flexible thermal links/straps also provide mechanical decoupling and vibration damping in thermal systems which are designed around vapor chambers and heat pipes. While our traditional approach is to design the ideal fittings (given your interfaces and attachment method), TAI can (in many cases), press our copper cabling directly into the structure of a cold plate, heat pipe, or vapor chamber (eliminating the end fittings, thereby eliminating the additional joints and subsequent resistance losses).


TAI can design and manufacture various adapter blocks, brackets, clamps, cold plates, and other structural components as needed. These parts are made using a wide range of materials, though OFHC Cu and Al 6061 are the most common. While it may make sense for some customers to machine their components (as is the case with many of our university customers), TAI can often provide these components at a lower unit cost than if they were machined (internally) by most of our aerospace customers.

Pictured (Left): FM CuTS® With Adapter/Extension Arms - Parker Solar Probe, NASA. Pictured (Right): TAI's Flexible Vapor Chambers (integrated directly with OFHC UltraFlex™ Cu Cabling).