CuTS® STANDARD LINE
TAI now manufactures our popular CuTS® in 120 models (48 standard straps, and 72 Cryocooler Series straps). All standard straps are rope length (RL) & bolt pattern customizable at no charge. Please note that minor modifications to end fitting dimensions are sometimes permissible at no additional charge (contact TAI for further information). Our staff is willing to work with your program to minimize NRE/design fees, to help you avoid paying the full cost of a typical custom program.
Please note that custom straps typically cost the same as standards (on a per unit basis), but there is a small additional NRE/Design Fee.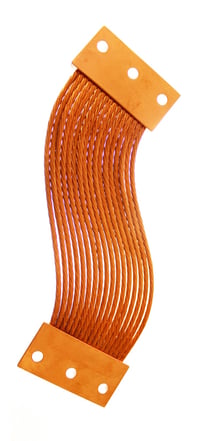 Standard Series CuTS®
Most affordable straps commercially available

Built to the same exacting quality standards as all aerospace customer straps

Typical 5-6 week lead times (can increase during Government procurement rushes)

Made entirely of OFHC cu (CU-101)

Solder-Free

Designed and fabricated for optimized flexibility

Available in single and double row straps

Available in 4 fixed widths

Nickel and Gold plating now available on all thermal straps

Front-end design and projections work - FREE OF CHARGE

Material Certs and CoC's - FREE OF CHARGE

Bolt pattern customization - FREE OF CHARGE

Rope/Cabling Length - FREE OF CHARGE

32 standard models to choose from
Download our 2023 CuTS® Catalog now too see the entire line of models, as well as projections at multiple rope lengths and operating temperatures.
Be sure to visit our Thermal Strap Design & Ordering Tips Page, and read page 3 of our catalog carefully, when putting together your inquiry. If you would like to submit an now inquiry, request the catalog, complete the questionnaire, and send it and stp files to our Director of Business Development, Tyler Link. Mr. Link is available to discuss your inquiry from 7 AM - 7 PM MST, 14:00 - 02:00 GMT, 7 days/week.