Have Ideas for New Copper Thermal/Heat Strap Standard Models?
By Tyler Link on Mon, Aug 05, 2013 @ 11:29 AM
Happy August everyone,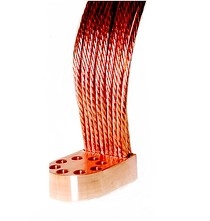 As the end of 2013 approaches, we are once again filling orders for our popular copper thermal straps (both custom and standard models like the P5-502 and P6-502), and it's time to hear from our clients and friends in the cryogenics and aerospace industries!
As you all know, our Standard Copper Thermal Straps are ideally-suited to organizations on a tight budget, who often cannot afford a custom strap program (due to the additional incurred cost of NRE and Design Time).
Well now is your chance to tell us what new model heat straps you want to see, beyond the P5, P6 and P7. We welcome feedback from everyone! Do you need straps with larger end fittings? Would a circular en fitting or specific feature in the end fitting make installation easier for you? Tell us what you would like to see offered in our 2014 edition of the Copper Thermal Strap Catalog, and your request could be made a standard product line--saving you thousands of dollars!
At TAI, thermal management and heat transfer consulting, hardware fabrication and testing are our specialty! If you need heat transfer straps for any application, from cryocoolers, to electronics box cooling, and optics cooling on satellite instruments, TAI is yours, and the world's only thermal strap headquarters.
Don't hesitate to call our Marketing & Sales Manager, at any time, to discuss how we can design and build a flexible copper thermal link for any application today!
copper heat strap, cryogenic heat strap, flexible copper thermal strap