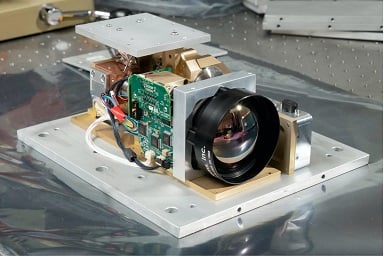 PyroFlex™ Thermal Straps used on NASA CubeSat Initiative's HyTI Instrument
TAI's PyroFlex™ thermal strap products (made with pyrolytic graphite film), will be used to cool a revolutionary hyperspectral imaging system developed in a joint effort between NASA JPL, the University of Hawaii's Space Flight Laboratory (HSFL), and the California Institute of Technology, called the Hyperspectral Thermal Imager (HyTI). The instrument is currently scheduled to launch in late 2021, moving our PyroFlex™ products up from TRL 8, to NASA TRL 9, within the next several months (unless previous programs with General Atomics and Lockheed Martin beat NASA to it)!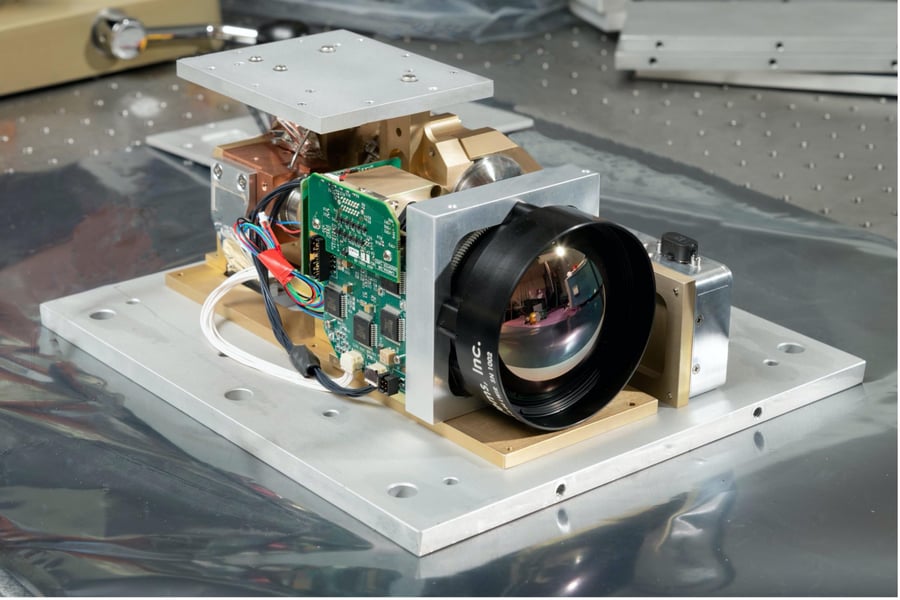 Pictured: HyTI with TAI's PyroFlex™ straps (wrapped in mylar sleeves), installed at the rear of the instrument.
TAI developed these particular graphite thermal straps for HSFL as part of our University Showcase Program*, to meet the demanding waste heat removal requirements that could not be achieved with any other thermal strap material or product, given the extremely limited volume available. As shown in the image above, the straps are connected between the radiator plates (above and below) and the heat-sink on the back of the IDCA expander, which extracts the heat from the coldfinger to cool the detector. These flexible thermal straps were required due to the available volume and mounting points, as well as the need for a non-rigid connection from the radiators to the IDCA heat-sink.
Pictured (left): PGL™ assemblies without mylar encapsulant sleeve. (Right): PGL™ with sleeves mounted in shipping fixtures.
HOT BIRDS and HyTI's
The following is an excerpt from NASA's Share the Science blog posted recently on Nasa.gov:
HyTI is a technology demonstration funded by NASA's Earth Science Technology Office (ESTO) under the In-Space Verification of Earth Science Technology (InVEST) program. HyTI's payload is designed to fit in a 6U CubeSat planned for low-Earth orbit (LEO), and the instrument includes a HOT BIRD Infrared detector. The LWIR HOT BIRD (High Operating Temperature (HOT) Barrier Infrared Detectors (BIRDs)), will serve as the detector for HyTI's FPA. The HyTI mission's objective is to obtain important spatial, spectral, and temporal information on hydrological dynamics and land surface temperatures on Earth. This information can be used for water resource management for agricultural applications across the globe, as well as to map terrain and landforms, identify fire damage and at risk areas, and for ecosystem and atmospheric modeling.
Scientists are actively engaged in developing infrared Earth and planetary imaging applications supported by the NASA Research Opportunities in Space and Earth Science (ROSES), Advanced Component Technology (ACT) and Planetary Instrument Concepts for the Advancement of Solar System Observations (PICASSO) programs. HOT BIRD sensors could potentially be used in NASA space flight projects as well as airborne, balloon, ground based, and in situ instruments to support research in many areas, such as:
Wildfire detection

Identifying where flames are active even through thick haze or smoke
Identifying hot spots not visible to the human eye

Imaging land forms on Earth, the Moon, other planets

Material detection, identification, and measurement
Monitoring geologic processes, in situ resources
Monitoring the health of agriculture crops and cropland
Finding and measuring snow and ice

Atmospheric sounding

Mapping areas of contamination and hazards (including superfund sites, methane leaks, and oil spills)
Ecosystem composition and modeling (measuring atmospheric gasses, etc.)
Enhanced water detection and prediction capabilities (ocean surface temperatures, etc.)

Atmospheric correction—the ability to see through clouds, haze, dust, etc. (this is important as it helps aircraft to land safely)
Detecting electromagnetic radiation (EMR), the presence of gravitational fields, magnetic fields, seismic and acoustic waves, and other phenomena
Addressing key science questions related to habitability of the planet and other planets
To learn more about these HOT BIRD infrared detectors that will be used on the next generation of NASA satellites, check out the full story here: https://science.nasa.gov/technology/technology-highlights/the-bird-with-an-eagle-eye-for-infrared
TAI would like to thank NASA and the University of Hawaii for the opportunity to be a part of this important mission! It was a pleasure working with you all, and we look forward to providing more copper and graphite thermal straps for CubeSat missions long into the future.
*On behalf of the TAI Team, I would again like to invite any university students working in the fields of Aerospace Engineering or Physics to contact TAI regarding our University Showcase Program. In most cases, TAI can provide your program with free design and consultation services as well as heavily discounted (and even complimentary) thermal straps, adapters/brackets, and hardware.
- Tyler Link
Director of Business Development
Technology Applications, Inc.
tlink<at>techapps.com
303.867.8145