TAI's Cryocooler Series Copper Thermal Straps Are a Hit With National Labs and Universities!
By Tyler Link on Thu, Jan 11, 2018 @ 12:39 PM
The Tech Apps team is excited to announce we have now begun filling multiple orders for our Cryocooler Series (CS) CuTS® Standard Product Line! In addition to over a dozen CS-45B and CS-47A units shipped in December, TAI has just completed an order for a national laboratory customer, for dozens of our CS-68B models (along with a number of custom and standard model units).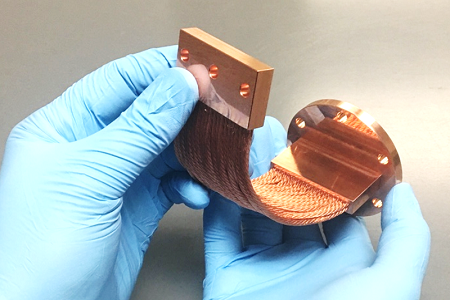 Pictured: CS-68B Model CuTS destined for use in large laboratory system using numerous Sumitomo™ Cryocooler RDK-415D
As a reminder, all of our standard model and Cryocooler Series model straps are length and bolt pattern customizable at no charge, and TAI offers multiple discounts to all university and national laboratory customers. Need a custom design? No problem! TAI can fully customize any of our standard model units for a small NRE fee.
Don't forget to get your copy of the new 2018 CuTS® Catalog, and as always; if you need to place an order or ever have any questions about any of our thermal strap products, please feel free to contact us at any time. Our Director of Business Development is available via cell and email from 6 AM - 10 PM MST (13:00 - 05:00 GMT), 7 days/week.
thermal strap, thermal straps, copper thermal strap, cryocooler thermal straps