TAI Introduces the X-Series™; the World's only PGS and Graphene-Based Thermal Strap Standard Product Line
By Tyler Link on Thu, Jun 07, 2018 @ 02:12 PM

I am happy to announce the release of our X-Series™ Thermal Straps; the World's first and only standard product line available with either Pyrolytic Graphite Sheet (PGS), or TAI's Graphene Foil (TAI's GTL™ and PGL™ products). The X-Series™ is comprised of 6 standard models with multiple end fitting options to choose from at no additional cost. As with our other standard model straps/links, flexible portion/sheet length and bolt pattern customization is available and free of charge (in nearly all cases), and additional (limited) end fitting customization is also available.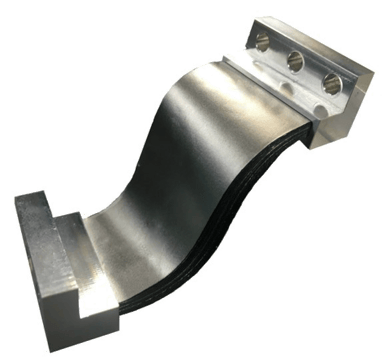 Pictured (Above): TAI's X6-501, made with 1,600 W/m-K PGS.
TAI will be releasing our first-ever, PGL™/GTL™ (X-Series™) Catalog in just a few weeks, and customers can request/reserve their copy now, by contacting TAI at any time. To learn more about the X-Series™ visit our Graphene & PGS Thermal Links page.
What Makes X-Series Straps Unique?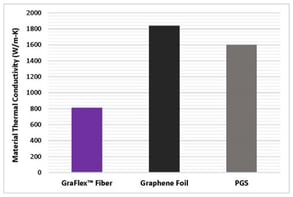 TAI uses the world's highest conductivity PGS and Graphene Foil sheets in our PGL™ and GTL™ products, with material conductivity of 1,600 - 1,840 W/m-K; material and sheet thickness dependent. However, as graphene production technology improves, graphene layered foils may one day offer even superior performance to the1,840 W/(m-K) currently available from TAI).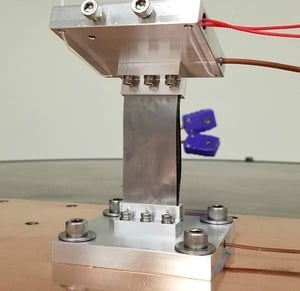 While Graphene Foil offers slightly higher performance than PGS (on the assembly level), a strap made with PGS is more flexible, and less prone to stress fractures and kinks when sheets are flexed. Further, the thermal conductivity of TAI's PGL™ products peaks near 150K, making them better-suited for lower temperature applications (60 - 200K), than Graphene Foils/Sheets (which peak at 220K).
To learn more about our PGL™ and GTL™ products, the X-Series, and any of our other Thermal Strap products, please feel free to call or email us at any time. At TAI, our experts are available from 06:00 - 22:00 MST / 12:00 - 04:00 GMT, 7 days/week, and are always happy to help!
Pictured (Above): X6-501 pre-thermal test (March 2018).
thermal straps, PGS, graphene thermal straps, pgs thermal straps, Graphene Foil